Blaze Kraze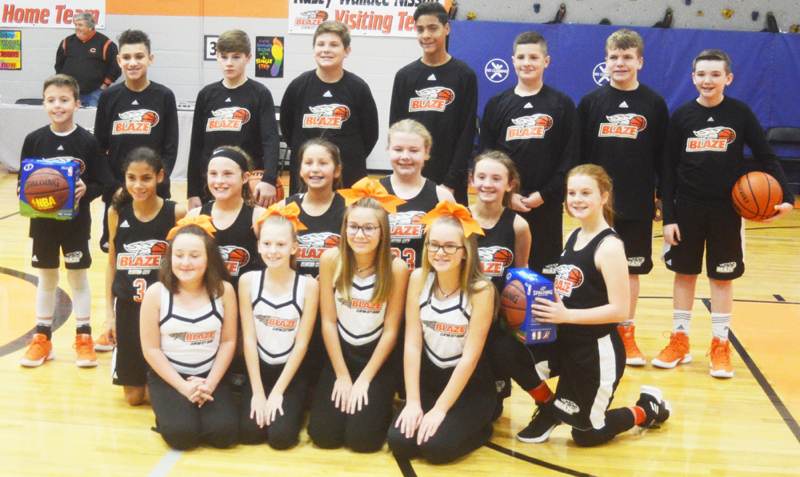 It was a bitter-sweet day for Clinton Elementary fourth grader Laci Percival on Saturday.

Percival competed in the Elementary and Middle School National Championship Meet and she made history as she became the first Clinton Blaze runner to participate in the meet, which was held at Victor Ashe Park in Knoxville on a rainy afternoon.

Percival was injured when she fell on the hairpin turn of the one-mile course. She was subsequently kicked in the back.

But she withstood the pain long enough to finish the race and that left Clinton City Schools athletic director E.T. Stamey ecstatic.

"A very wet track took a nasty turn when Laci tripped in the hairpin turn and was kicked in the back," Stamey said. "Showing the Blaze effort, she finished the mile run competing against the nation's best."

The Clinton cross country teams finished their first season recently. Percival was one of 176 runners from across the country who ran Saturday and she'll begin preparing for next season soon, Stamey said via text message over the weekend.

Lady Blaze Post Three Victories: The Lady Blaze won three games last week. Clinton closed out the home portion of its schedule with a 27-13 victory over the Rocky Top Travel Team from Maryville on sixth grade day.

Lanee Carmichael scored 11 points (most late in the game) to lead Clinton (13-3). Josie Moody finished with eight.

The Lady Blaze also beat Caryville Thursday night. Clinton handed the Campbell County team a 27-24 loss Thursday night. It was Caryville's first loss in three years.

Carmichael scored 12 points and Shelby Kelly added six.

The Lady Blaze opened the week with a 29-9 win over St. Mary's in Oak Ridge on Monday, Nov. 26.

Bralee Hall led Clinton with 12 points.

Blaze Boys Win Two: Clinton closed out the home portion of its schedule with a victory over Tennessee Outlaws Saturday afternoon.

The Blaze's Hayden Craig scored the first 14 points of the contest. He made a pair of 3-point shots and also pulled down six rebounds for Clinton (10-5).

Jaxson Wilburn scored six points and Braylen Hayden grabbed six rebounds.

The Blaze downed Caryville 39-11last week as they got a complete team effort. Hayden led the way with nine points and six boards. Hayden Craig added seven points while Wilburn and Andrew McAmis each scored six.

Brian Hall finished the contest with nine rebounds and four blocks.

Clinton's game against St. Mary's was postponed last week due to illness on the St. Mary's squad. The game was rescheduled for Tuesday but results were not available at press time.

Upcoming Schedule: The Blaze and Lady Blaze will conclude their respective 2018 seasons Thursday night at Coalfield. The girls game tips off at 6 p.m. and the boys contest will follow.

Blaze Soccer Clinic: The Blaze Soccer Clinic is underway. The clinic began recently. Both boys and girls can sign up before the next camp session.

Clinic sessions for players in Grades 1-3 are Wednesdays from 3:30-4:30 p.m. at the Clinton City Football Stadium. Camp sessions for players in Grades 4-6 are held on Fridays from 3:30-4:30 p.m. at the football stadium. In the event of inclement weather, the clinic will be held at Clinton City Gym.

The clinic is run by professional soccer player Chris Carroll.

Stamey said that the Blaze is hoping to field both boys and girls soccer teams in the spring of 2019.

"We started doing the clinic to gauge interest in soccer in the community," Stamey said. "We've been doing [Clinton Blaze Athletics] for a couple of years and we're hoping to have soccer in the spring."

For more information about soccer contact Stamey via e-mail at staymeye@clintonschools.org,

Blaze Academic Clubs: The Blaze has a reading club that is open to elementary school students at all three of the city's elementary schools.

Clinton also has an H20 Science Club, which is open to first graders. It focuses on water sciences and is intended to spark interest in science at an early age.