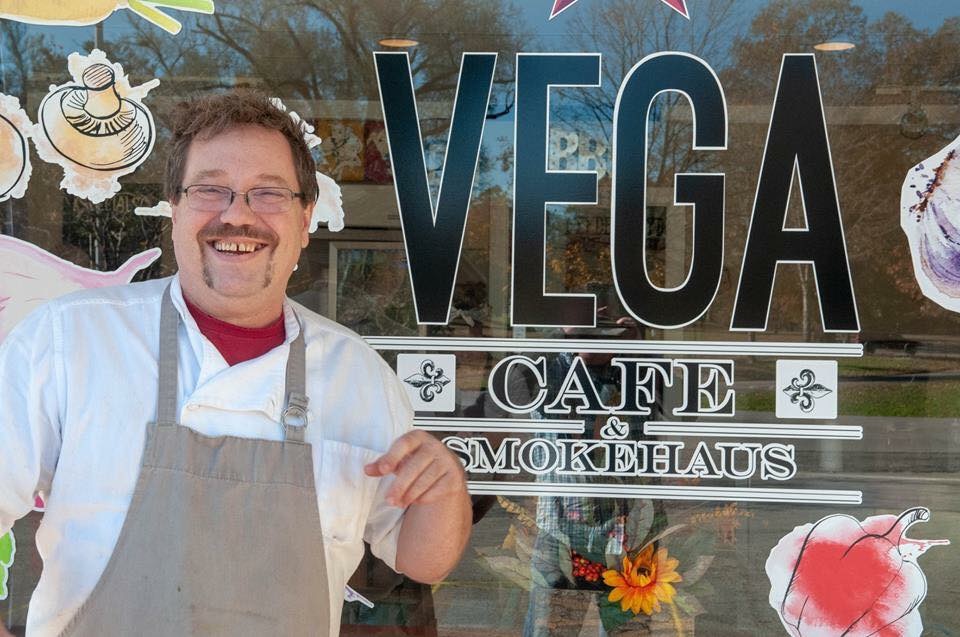 One thing Chef John Fletcher knows for sure: Anderson County folks love their desserts.

"I've never in my whole career sold so many desserts per person," he says. "I sell more desserts than beverages. It just baffles me. I know I put my heart into it and make great desserts, but I've never seen them fly off the shelves like this."

But as he talks about his desserts at Norris' Vega Café and Smokehaus, it becomes obvious why his customers are a little … obsessed. He is considering putting a blueberry buckle on the menu next week — it's like a cobbler, but with a crust that rises and then "buckles" as it bakes — but may do a rum cake with foster sauce. He'd like to do a s'mores bar eventually, giving his staff a blow torch to crisp up the marshmallow toppings. Last week, he offered chocolate chip cookies and milk. The week before that, a chocolate pot du crème. Key lime cake, orange bread pudding with rum raisin sauce, coconut carrot surprise muffins…

"Two tables last week started with dessert, ate a meal, and then finished with dessert," he says. "I came over and somebody was eating the bread pudding, but I know they already had a pecan pie!"

Fletcher made a name for himself in Knoxville when he was chef at Lucille's, but he was well known many years before that. He was personal chef to the U.S. Ambassador to the Czech Republic from 1996-1997, where he had to cook and bake whatever was available.

"I made a lemon tart one week, and they requested it again for the next week," he recalls. "But when I went back to the market, there were no lemons in the entire Czech Republic."

He had a gardener on premises that would grow whatever he wanted, but the earth was so toiled, according to Fletcher, that what they did grow he wouldn't even want to buy here.

"All the same, I had a really good time," he says.

It was an unforgettable experience, as was serving as the caterer for Martina McBride during one of her tours. He received his initial culinary training while he served in the Navy, followed by an apprenticeship in Los Angeles that immersed him in high-end cuisine. Besides Lucille's in Knoxville, he helped developed downtown's Nama Sushi.

His parents, Allen and Barbara Fletcher, own Buffalo Creek Gardens in Norris. They moved to the area nearly 30 years ago and Fletcher followed in 1991. He came and went throughout the years, working most recently in downtown Atlanta.

But it was a nearly tragic twist of fate that brought him back home from Atlanta.

Around three years ago, he was hit by a school bus as he cycled near Stone Mountain in Atlanta. He was broken from head to toe, he says, and couldn't even walk for nine months. He came to his parents' home to recover and decided to stay.

"I've known for years and years that we needed something like this here," he says. "We have a lot of people here that I know appreciate what we're doing."

Serving fresh, simple comfort food is his goal. And his definition of comfort food is expansive — whatever brings comfort, whether that's sushi, lasagna, or fried chicken. He puts painstaking effort into every one of his dishes. The smoked chicken can take up to three days to get just right, from the brining process to the herb rub. He's excited about the wings, another menu item that flies off the shelves.

"We have the best wings in a 50-mile radius," he says passionately. "That's what everybody is saying. I don't cut any corners. I marinate those wings in a homemade jerk for 24 hours, and then they get smoked. Then we fry them up and add my spice to them."

The pork butts marinate for 24-48 hours as well.

His weekly specials are based on what's available at the time and whatever whim strikes him. He does a lot of shopping at farmers markets and Sunshine Produce in Knoxville and tries to keep everything regional.

"I like being able to wow people with simple ingredients," he says.

Regular menu items include simple sides like pimento macaroni and cheese, greens and kale salad, but they're far from regular. Each item, according to customer reviews, is the best of whatever it is. The portion sizes are large.

Weekly specials have included fish and chips, the best Monte Cristo in the state, clam chowder, pork schnitzel sandwiches and seared garlic pork tenderloin.

He blushes when he's told about some of the praise he's received.

The restaurant itself is now exactly how he envisioned it years ago when it was a pizza place. He saw it back when he first moved to the area and envisioned a country, cozy restaurant that served chef-driven, high quality comfort food. Food is ordered and paid for at the counter, and a separate counter is where customers get their drinks and soup. It's small, clean and decorated simply, yet stylishly.

"This isn't about me having my jacket on and being all 'I am the chef and here my creations,'" he says. "It's about feeding everybody."

He and his staff are already on a first-name basis with many repeat customers and he hopes to get to know more and more.

Vega — named after the star — is open Wednesday-Saturday 11 a.m. – 8 p.m. He hopes to open for brunch on Sundays in a few months. Follow him on Facebook by searching for the name or typing "feedeverybody" in the search bar. Customers can also call 865-498-4115.