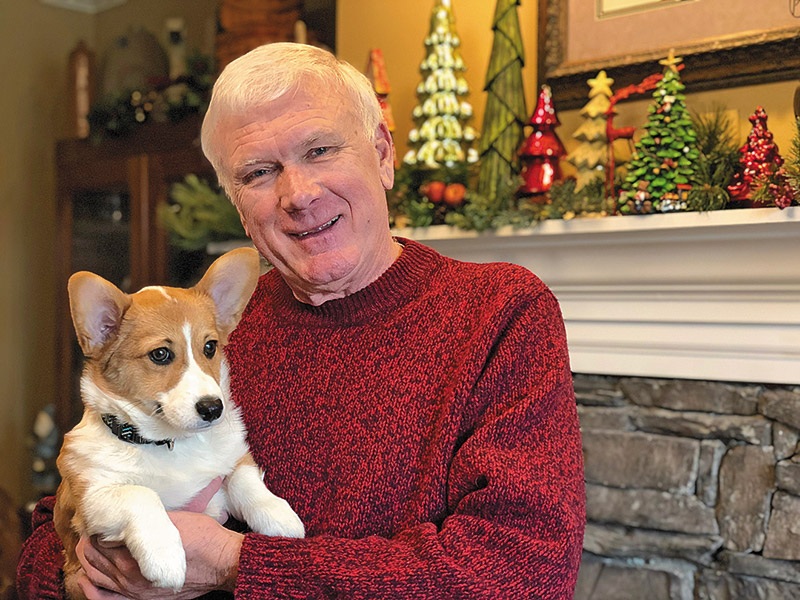 In 1982, former Anderson County Schools Superintendent Larry Foster and his wife Nancy received a pet Corgi as a gift from a former student.

They've been hooked ever since.

"Her name was Grits," Larry said. "She was a black-headed tri [color]. She had those raccoon goggles."

For the past few years, the Fosters have been breeding Pembroke Welsh Corgis for fun. It's a passion born out of a love for the short-legged, big-eared dogs.

Grits was a farm dog, but the dog they have now, Lucy, is around purely for the fun of it.

The Fosters received their second Corgi as a Christmas gift from their kids. Then, in 2013, they were at a livestock show in Louisville, Kentucky with their granddaughter. Someone there had a Corgi puppy and their granddaughter immediately fell in love with her.

The puppy cost an arm and a leg, but Foster couldn't deny his granddaughter the puppy.

Ever the pragmatic one, he figured that he could get some of his money back if he started breeding Corgis himself.

"I had so much invested," he laughed.

Corgis are very popular right now, according to Foster, but they've been a favorite of the Queen of England for decades.

"We want to thank the royal family, because they were the ones responsible for getting them registered with AKC," Foster said. "It was in the '30s that they started registering Corgis."

Corgis are natural herders, herding cattle, sheep and even geese.

"The Queen's first Corgi was Susan, and she had 14 generations of Corgis from her," he said.

Foster had it all figured out.

He would purchase another male Corgi, and after a few years they would start breeding the dogs at home and have a tiny Corgi-paradise right here in Clinton. It would be great. So, he placed a down payment on another dog.

He forgot one important thing: to tell the missus.

"Ms. Foster said no," Foster laughed again.

"It was all in his head!" Nancy confirmed.

So he called back and switched his request to another female.

"So I got Molly, then my granddaughter named the other one Derby," Foster said.

In 2016, upon retirement, they decided to give it a try, though.

"So we had our first litter of puppies," Foster said, full of pride. "We fell in love with them and everyone else did, too."

Foster walks at night and his dogs follow him every step of the way.

"You appreciate that," he said. "They're very loyal and very intelligent. It's been a pleasure raising Corgis. You can't miss the little short legs and the little walk and the rear. I like the prettiness of them."

Foster, according to Nancy, has a "go big or go home" mentality. When they raised cattle, they had a lot of cattle.

When they raised sheep, they had a lot of sheep.

And when he loves his dogs, he loves them wholeheartedly.

"The beauty of raising puppies is you meet some of the neatest people," Foster said.

"It's great to meet people from all walks of life."

He keeps up with the dogs on social media and posts his own photos and videos of the dogs frequently.

They are just hobby breeders, and don't sell many per year. Because of that, the dogs feel more like family than anything else.

"When you know they're going to good homes, it brings a joy, or the blessing, back to you," he said.