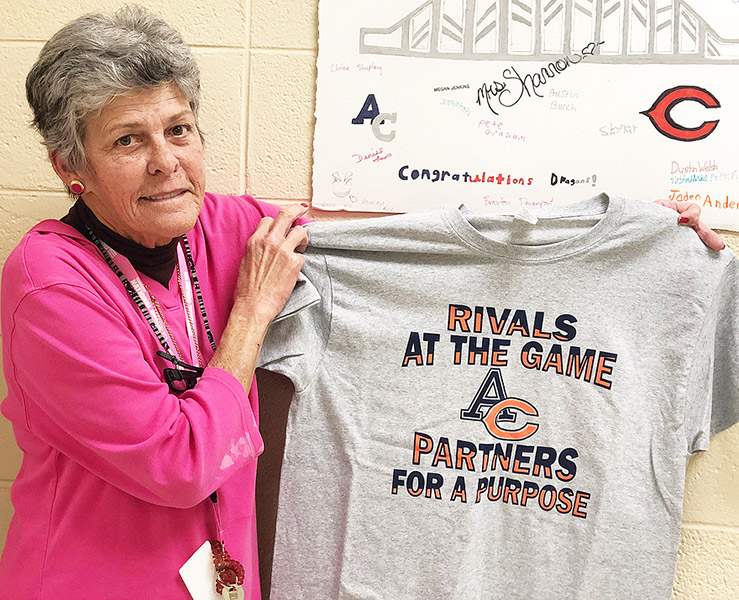 "I've always been an extremely competitive person, but today I learned that losing can still give you a great feeling," wrote a 12th-grade Clinton Clinch River Community School student that participated in the Anderson County Community Games basketball game.

The student's name is withheld for privacy reasons.

Winning stopped being the goal when the student saw how much his competition — a team made up of students with physical and mental disabilities — enjoyed themselves.

"I wasn't planning on doing much but passing and setting my teammates up for success," he wrote. "The first game had me a little nervous because I hadn't previously played in front of a crowd. But the first time I got the ball, I was just interested in seeing smiles on the whole court. I passed and passed and passed, and while on defense I would cheer for the mentally and physically disabled players because I could see how much fun they were having and how much joy the game had been bringing them."

Students at CRCS were invited to play in the Anderson County Community Games as an incentive, according to Clinton High special education teacher Paula Marshall. CRCS is an Anderson County school for students who need additional supports, whether that's for social, academic or behavioral issues.

The Anderson County special needs program has participated in similar games with Knox County students for years, but there were some challenges. First, Anderson County Schools get out early on Wednesdays, and a lot of activities took place on Wednesdays.

Elementary-age students especially often had to leave before they could receive their medals.

The cost to participate could also be prohibitive for families.

So, last year CHS piloted a field day just for Anderson County students who need extra support. It's been dubbed the Anderson County Community Games.

"Is it good for our kids? If the answer is yes, we're going to give it a try," Clinton High School Principal Caleb Tipton said.

It was a success, and so they're adding on to that experience this year. The basketball game is part of that.

Coach Craig Dixon is one of the coaches that worked with Clinton High's special needs students.

"We worked really hard," he said. "They were all really excited. They were nervous because the crowds were so large."

The game took place at Clinton High. Two CHS teams competed against CRCS and Anderson County High special needs students.

"We worked for a few months during PE time," Dixon said.

CHS assistant principal Angela Carico said that the CRCS students played "in such a way as to honor our students."

"They'd pass the ball off to our students," she said. "They made sure every student on that court got a basket that day."

She said that when she "had the honor" to place the medals around her students' necks, she offered them encouraging words and affirmation.

They wore those medals the entire day.

"Just the faces, the happiness…" she said, tearing up. "And the way that all these teachers are working together to provide opportunities for these students is phenomenal. I've never seen the likes of it before. They're instilling in each of these students a drive, an opportunity to do something they wouldn't normally get to do."

And the student body cheered them on as they did it. The CRCS student said that the experience made his entire week better.

"I would do it again any day," he said.

"I loved the feeling it gave me when the other team made shots because everyone would cheer for them. This is the first time I have participated in any kinds of Special Olympic-type event and I plan on doing it again."

That's what Clinton High Principal Caleb Tipton was hoping for: something that would strengthen the school community and build community spirit, not just at CHS, but in the whole county.

"That's all I could hope for," he said. "That's the piece I'm most proud of."

To donate money, snacks, pizza or to volunteer for the upcoming 2019 field day, just contact Clinton High School at 865-457-2611.