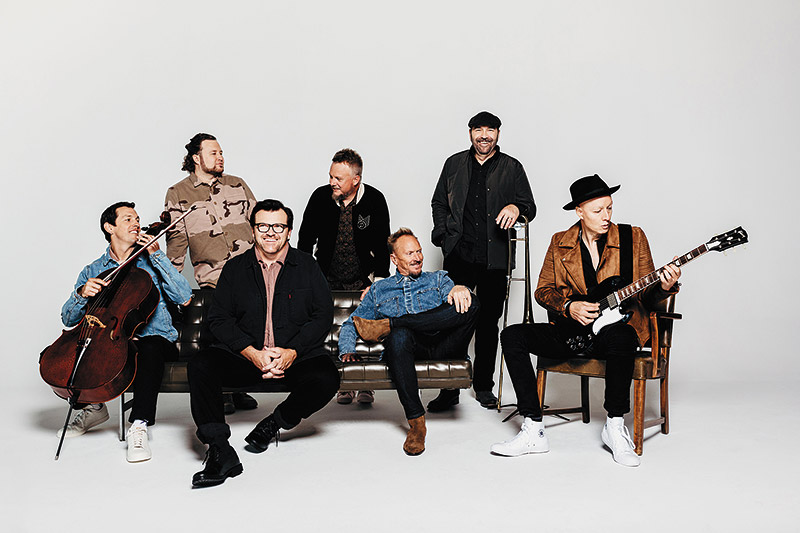 Iconic Christian music group NewSong will perform at Second Baptist Church in Clinton on April 25, along with fellow musicians Rebecca St. James, Nicole C. Mullen, Bob Carlisle and Avalon.

Between them all, they have around 100 No. 1 hits.

NewSong rose in popularity beginning in the 1980s and never really went away. They still perform around 20 concerts a month, according to founding member Eddie Carswell.

The group founded Winter Jam, the nation's biggest Christian music tour, in 1995, and tours regularly through that circuit.

Carswell and other founding band members found religion just a few years after the height of the "Jesus Movement" that took place in the 1960s and '70s. It was an interesting time — as a strong counterculture emerged that rejected materialism and embraced drugs and free love, the Jesus movement emerged right alongside it.

Followers were called "Jesus Freaks" or "Jesus People" in a negative sense, but the new Christians adopted the term, as evidenced by DC Talk's song "Jesus Freak" that came out in 1995.

Spirituality was one dimension of the hippie movement as a whole in the '60s, but for the Jesus People, it was the primary focus. Hundreds of people were getting saved at a time, sometimes thousands, and mass baptisms were taking place in rivers and oceans.

"It was a real movement. There were all kinds of rallies," Carswell recalled. "In our town, there was a 'Valdosta for Jesus' rally."

Fast forward to 1976, when he and his wife, Terrie, were visiting Morningside Baptist Church in Valdosta. This wasn't exactly the "Jesus movement" of the '60s — the hippie culture had grown up and evolved— but the spiritual climate was still on fire, and people were speaking up about their faith.

"They were starting to gather and rally and talk about Christ more back then," he said.

Carswell wanted to know more.

Despite being a church-going man, he knew he wasn't in a great place.

"We weren't doing well in our marriage. I wasn't doing good as a person," he said.

He got along well with the pastor and asked him out to lunch so that he could ask a few questions.

"I got in the car with him, and we were driving around the parking lot and he asked if I was a Christian. I realized I wasn't; I was just a church member," he said. "He talked to me for an hour over lunch and I didn't eat a bite, I was so enthralled about it. God saved me right there in his car."

Religion isn't the right word for what Carswell experienced — it immediately became a new way of life.

"I went to lunch one day not saved, and came back a different man," Carswell said.

Terrie got saved a few days after that.

He invited a friend named Eddie Milton, a nightclub singer, to church with him soon after.

"And he got saved," Carswell said.

Friendships began to form with likeminded people at the church —Billy Goodwin, Bobby Apon and the newly saved Milton— that were musically inclined. They were all very young and newly married. Some were students in college and some were already working. One day, the pastor asked them to sing a few songs for a special event.

"So we worked on a few things," Carswell said.

He paused, then added, "It's really a thousand little points of light that God put together."

By 1981, the four friends had formed NewSong. The decision to go pro was another one of those "points of light" moments.

"We were praying about whether to quit our jobs or not," he said. "We had a whole band by that point."

They had been asked to perform for 30 minutes at a local high school, and when they gave the Gospel invitation — something they did regularly — at least 1,000 kids came down.

"We knew what a normal response was," he said, "and that wasn't it. All but 10 or 12 kids came forward. So we said, 'Wow, we hear you, Lord, we'll do it full-time.'"

So they all quit what they were doing and hit the road.

Fast forward to 2019 and they're still at it.

"The spiritual temperature of the world seems to be not doing too well," Carswell said.

"There are a lot of Christians still doing great things, but there are also a lot of crazy things going on."

Personally, though, he's as on fire for Jesus as he ever was. He and his wife pray together regularly, and he reads several different books every day in addition to his Bible.

"I made that a good habit, but I do slip sometimes," he said. "I don't do exactly what I want to do every day."

But his wife and friends hold him accountable, he said. Traveling with friends who also pursue a walk with God helps.

"We keep on working on our walk," he said. "And God uses that, too, for songwriting."

Many of the songs he's written were based on notes he wrote while reading his Bible. Some of the band's most well known songs include "Arise My Love," "The Christmas Shoes," "When God Made You" and "People Get Ready."

"Arise My Love" is a song they are always asked to play, but it was never a chart-topper, according to Carswell. It was inspired by the band members' love of some of the old hymns.

"The places we go now, they're still rallies," Carswell said. "The things we do are more like celebrations. It's a time of worship with like-hearted people."

The idea for the Greatest Hits tour came to Carswell when he ran into some bands he used to perform concerts with.

"One of my friends came out to Winter Jam two different times and said he'd love to tour with us," he said. "So I talked to Avalon, Point of Grace, Nicole C. Mullin, Rebecca St. James, Bob Carlisle, and I asked, what do you think about doing a tour? Between us there are at least 100 number one songs, I mean everybody had a bunch. So we did it in the fall and we had such a great time. Everybody's band was as good as it's always been. No one has given up. So it's a lot of fun, it's something different."

Clinton will be their first stop this spring and each band will play for 15-20 minutes.

"Every song is someone's favorite song," he said. "We're looking forward to doing it."

For tickets to the Greatest Hits Live at Second Baptist, visit greatesthitslivetour.com.