Clinton Baseball finishes last week 2-2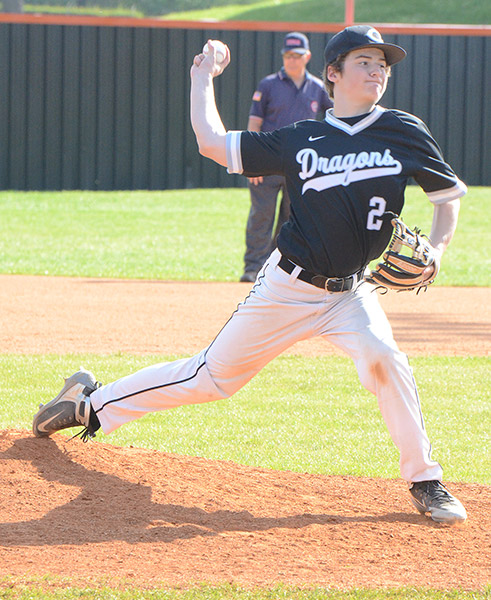 The Clinton High School Baseball Dragons picked up two wins last week.

Before competing in this past weekend's ignaugural Clinch River Challenge, the Dragons faced a home-and-home series with District 3-AAA opponent Campbell County.

At Clinton, last Monday, the Cougars produced 18 runs on 14 hits, and cruised to a 18-6 win over the Dragons.

However, the next day, it was Clinton's turn.

The Cougars looked to be crusing to a second straight win, as the hosts went into the fourth inning with a 6-2 lead.

Yet, momentum shifted the Dragons' way after a scoreless fourth inning.

In the top of the fifth, with one out and runners on the corners, Austin Pemberton would start Clinton's rally with an RBI-single. Pemberson's single brought Blake Lowe across the plate, and Clinton trailed 6-3, but they were not done.

After a Spencer Byrd single to load the bases, Chase Lockard and Pemberton would cross on an erroor, and the Dragons trailed by one, 6-5.

After holding the Cougars scoreless, the Dragons gained the lead in the top of the sixth.

With nobody out, and runners on the corners, Lockard roped an RBI-single to center, which tied the game, 6-6.

Pemberton was next up to the plate and drove an 0-2 pitch to center for an RBI-single, to give the Dragons a 7-6 lead.

One batter later, Connor Moody hit an RBI-groundout to give Clinton a two-run advantage.

The Dragons would hold Campbell County scoreless for the last four innings of the ballgame, to earn their first District 3-AAA win of the season, 8-6 over Campbell County.

Chase Lockard earned the win on the mound for the Dragons. Through six innings, Lockard faced 34 batters and threw 77 strikes on 121 pitches. The junior gave up seven hits, three earned runs, walked four, and sat down seven Cougars.

Offensively, Pemberton went 2-for-4, with two RBIs, two, hits, and a walk.

Lockard went 3-for-4 at the dish, with three hits, one RBI, and a walk.

Over the weekend, Clinton hosted the Clinch River Challenge.

The Dragons played two games in the challenge against Claiborne and Kings Academy.

Clinton dropped a close 5-4 defeat to the Bulldogs, on Friday night.

However, the Dragons responded on Saturday, against TKA.

Clinton scored five runs in the first two innings, and added two more in the home half of the fourth.

Blake Lowe had a fantastic game on the mound for Clinton.

Lowe pitched all five innings, faced 26 batters, and threw 55 strikes on 95 pitches. The Freshman gave up only three hits and one earned run.

Lowe walked three, but finished the ballgame with ten K's.

The Dragons ended the week with a big 7-1 rout over the visiting Lions.