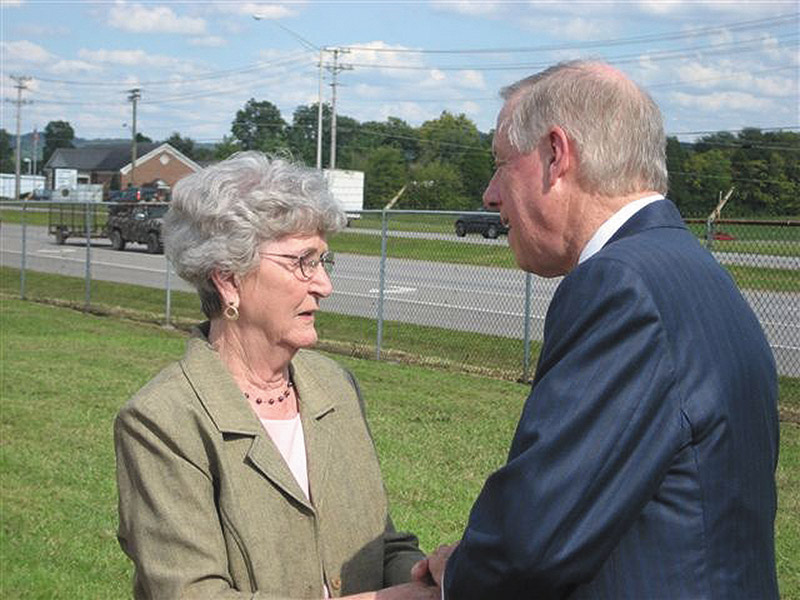 Middle Tennessee State University now has a scholarship endowment in honor of the late Bertie Bostic, matriarch of Clinton's Bostic clan.

The endowment was established by MTSU's Dean of College Education Lana Seivers. Seivers is a Clinton native who grew up side-by-side with the Bostics and is a former Clinton City Schools superintendent.

"The Bostics and my parents were best friends since the late 1950s," Seivers said. "My mom and Bertie were so close. She was a second mom to me. Next to my own mom, she means more to me than anyone else."

Bostic was a special education teacher at the Daniel Arthur Rehabilitation Center in Oak Ridge for 27 years. The public school was created to specifically meet the needs of children that met the criteria for special education in Anderson County.

A bio provided by the Bostic family said that Bostic "was a joyous person with a demanding spirit. She demanded that her students learn. She used her gift of music and song to incorporate lessons in ways that her children would be interested in, like repetitive, simple, sing-song verses that secretly taught her students math and science."

The Daniel Arthur Center closed as public schools began to mainstream students with disabilities into traditional schools. Bostic finished out her career at Lake City Elementary School in the special education department until 1993.

It was her dedication to special education that inspired Seivers to create the endowment. The number of people entering the teaching field is rapidly declining, according to Seivers, and the number of people choosing special education as a career is even lower. Offering scholarships as an incentive to enter the field seemed like a wise course of action, and an endowment would allow the scholarship fund to be self-sustaining. She had already created an endowment in honor of her parents, James "Jiggs" and Frankie Seivers. This year, they awarded a $1,000 scholarship in Bostics' name to Christopher "Blake" Slaughter.

"So here's one young man that we hope will be as good as Bertie was," Seivers said. "This scholarship is to honor her teaching, but it's just as much about her and our families."

"I watched my mother my entire life as a teacher and a mom," Bostic's daughter Jo Ellen Emert said. "She would bring the kids home with her from Daniel Arthur. She was a marvelous teacher. The field of special education was just coming around, and she worked so hard and long in a field that was brand new. It always inspired us."

Emert and her siblings, Paul "Jenks" Bostic and Cheryl Scarboro, grew up with not one but two educators in the family. Their father, Paul Eugene Bostic, was also a school superintendent.

"Their work ethic became our work ethic," said Emert.

Emert is a retired teacher, as is her sister Cheryl.

Jenks went the corporate route, but was influenced by Bertie Bostic's compassion and drive.

"Many times, she would bring students home who had physical handicaps or other challenges," he recalled. "She did that partly to teach my two sisters and myself about what these kids really meant and how we should understand what their needs were."

There were times his mother would come home with bruises, which she called love marks.

"Sometimes these children didn't always know what they were doing, whether they were hurting someone or not," he said. "But mother was focused on helping those kids."

The kids she brought home would eat with the family and even stay the night.

"Then mom would take them back," Jenks said. "This would be over the weekends. She did it often. With the knowledge of the parents, of course, who absolutely loved my mother."

It hurt her when the children at Daniel Arthur were streamlined, because some needed far more help than what they would be given, according to Jenks.

Seivers remembers Bostic as not only a caring teacher, but someone everyone wanted to be around. She was around eight years old when the Bostics moved into town, and her father was on the school board when Paul Bostic was superintendent.

"Our parents played cards together every weekend and were truly the best of friends," she said. "My mom said there's not a day that goes by that she doesn't think of Bertie. Nobody had a sense of humor like she did. And a real heart of gold. She was just fun to be around."

Bertie and Paul Bostic's son, Jenks, married Dudley Hoskins. Dudley is the daughter of R.C. Dudley Hoskins, who opened Hoskins Drug Store in Clinton in 1930. Dudley had a daughter named Mollie, who married Zach Farrar. Mollie and Zach had two daughters, one of which is named after her grandmother Bertie.

They're just a few in a long line of inspirational, hardworking women from two remarkable Clinton families.