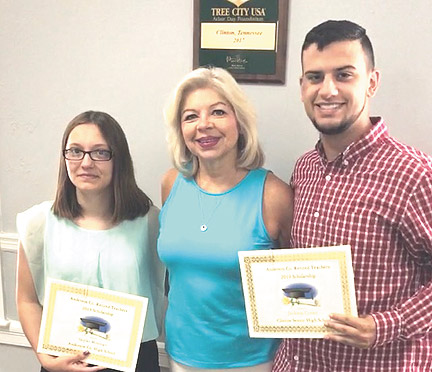 Retired Teachers Association Award Scholarships The Anderson County Clinton City Retired Teachers Association presented scholarships to two graduating seniors at its May 14 meeting.

The recipient from Anderson County High School is Skylar Cheyenne Mozingo, daughter of Todd and Tomeka Mozingo. She plans to begin at Roane State Community College and, though torn between agriculture and special education, is leaning more towards becoming a special education teacher.

The recipient from Clinton High School is Jackson Cade Crowe, son of David and Lydia Crowe. After working with students with disabilities at his school, he, too, would like to go into the field of special education.

Patsye Thurmon, president of the Anderson County Clinton City Retired Teachers Association, presented them their awards.

Money for the scholarships was raised at the annual ACCCRTA auction held in December. Local businesses making contributions to the auction were: Anderson County Co-op, Anderson County Career and Technical Center Agriculture department, Buffalo Creek Nursery, Chiropractic Care Center, Clinton Courier News, Clinton Drug Store, Community Bank/ Southern Bank, Farm Bureau Insurance, Fire Pro, Food City, Hammers, Herb Clark State Farm Insurance, Holley Gamble Funeral Home, Hoskins Drug Store, Iconic Home Decor, Perkadelli's, and Sam Franklin Florist.

The Anderson County Clinton City Retired Teachers Association will have their next meeting at 1 p.m. Tuesday, Aug. 13, at Harrison's Restaurant. All newly retired teachers are invited to attend as the guests of ACCCRTA.