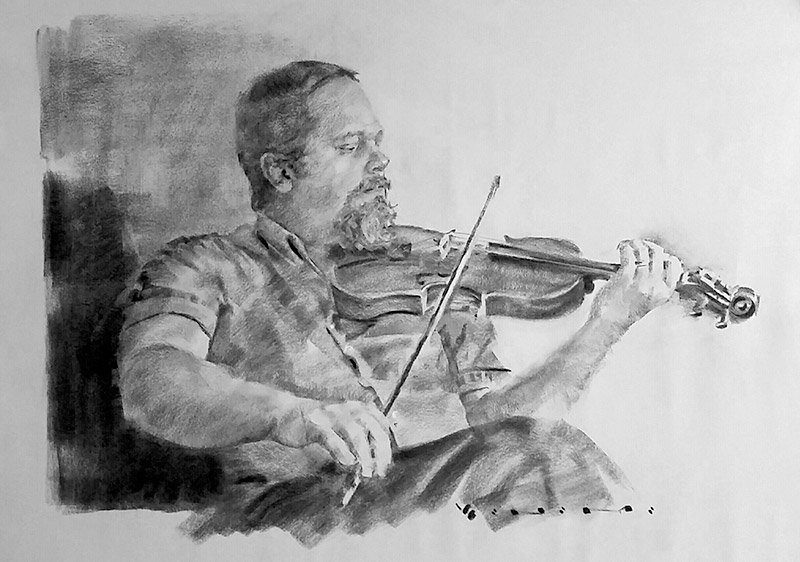 It was a bad day for a man to forget his hat!

John Alvis, owner of Sleepy Eyed Johns and co-owner of Alvis and Lowe Auction, is almost never seen without his signature hat. Nevertheless, on this day, it was nowhere to be found when he left the house.

It's hard to know where to start when writing about Alvis. There's the fact that he plays multiple instruments, and the stories behind how he got started. There's the story of why he began teaching, and how he ended up performing in a Steve Martin musical.

I'll just pick one, and you can ask him the rest.

Alvis got started teaching when he sent his wife, Alicia, to learn guitar from someone else.

"The guy that owned it got after me to teach fiddle," he said with a laugh. "He said, 'Well, I got a little girl that wants fiddle lessons.' I said, 'Well, that's unfortunate.' I just refused, but he stayed on me."

The owner asked him how he learned to play the fiddle. Alvis told him it was by watching the old men at the Museum of Appalachia and other places where people gathered to play. The owner asked if any of them were still teaching.

"I said, "For the most part, they're dead,'" Alvis said.

There were a lot more teachers around when Alvis was a kid than there are now.

The owner then asked Alvis, "So, we're just not going to teach people to play anymore, then?"

"I said, 'OK, one student,'" Alvis said. "As time went on, there was another one, and another one. Then some banjo and guitar students."

Now, Sleepy Eyed Johns is a bustling music school with students ranging from the ages of 3 all the way to 81.

The 81-year-old is learning to play fiddle.



LaFollette resident Joe Bonomo is a prolific, successful artist, and is passionate about portraiture. He spent many hours in Anderson County recently photographing people in town and learning a little about them, and then going back home and creating their portraits.

To find out more about Bonomo's art, visit bonomoart.com, on Facebook at Facebook.com/artofjoebonomo, and on Instagram at @bonomoart.

This series, however, is only available in The Courier News.