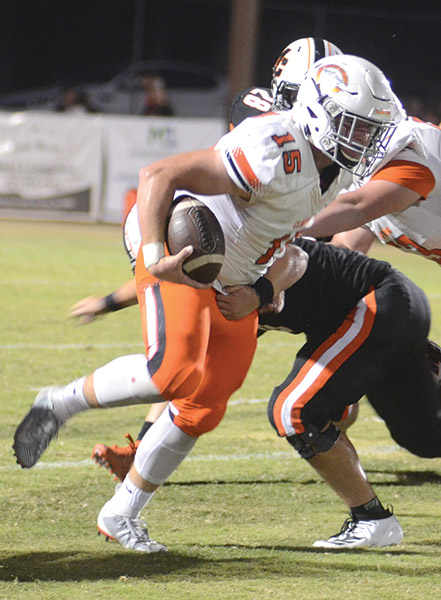 Clinton and Anderson County both have region games this week as Clinton travels to West High School to face off against the Rebels and Anderson County hosts the East Ridge Pioneers.

Anderson County goes into this week's game with a 5-1 record after last week's blowout against Jefferson County that ended with Anderson County up 42-14. Their only loss this season has been to Powell. In their past two games, AC scored a combined 84 points to their opponents' combined total of 14 points.

East Ridge, meanwhile, comes into this Friday's game 3-2. The Pioneers started off this season with a strong win against Whitwell where they finished 38-8, but dropped games to Bledsoe County and East Hamilton.

Their past two games, though, have showed strong improvement as they gave Sequatchie County a decisive loss and beat out Signal Mountain 23-17.

Coach Davey Gillum said this week will be mostly about execution, as East Ridge is a different beast from last week's game.

"East Ridge is a more athletic team, not as physical as Jefferson County, but more athletic. That poses a different threat to us. As long as we execute in the run and pass game, though, we should be able to keep them off guard."

"I think if we don't tackle them the first time, then they have the speed to really put points on the board, just like our game against South Doyle. If we rally and tackle well, though, I don't think they're just physical enough to just drive the ball against us."

This week also marks Anderson County's homecoming week and their second game with their new player, Ella, the adorable tee-retrieving Labrador, who is happy to be a part of the team and is also a very good girl.

Clinton, meanwhile, travels to West High School to play against the undefeated Rebels. Clinton currently sits at 0-6 for the season after their 27-7 loss against Oak Ridge last week. Though the team has showed great improvement across the season, they have yet to achieve their first win as they've faced off against the powerhouses in their division, the majority of whom were undefeated until this past Friday.