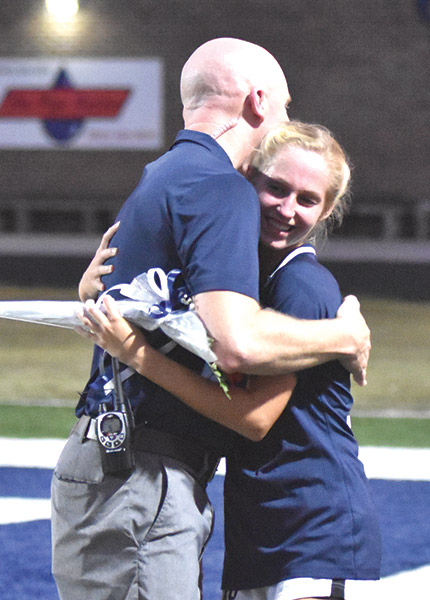 On Tuesday, Oct. 1, the AC girls soccer team hosted Lenoir City for their senior night. They lost 2-1.

The game started out evenly enough, with both teams fighting to push the ball downfield. In the entire first half, neither team scored, although Anderson County shot multiple times. Both goalies got a strong workout, including once where Anderson County's goalie, Allyssa Wetherington, slid to grab a ball just as a Lenoir City attacker ran to grab it.

Wetherington jumped and wrapped herself around the ball before the attacker could get there, but the poor girl was running so fast she couldn't stop and flipped right over Wetherington. In one of the best displays of sportsmanship seen this season, Wetherington immediately rolled over to check on the shaken-up Lenoir City attacker, then helped her to her feet.

During halftime, Anderson County held their senior night ceremonies. Four girls were honored: Natalie Bartley, Laura Wilson, Echo Haverkamp, and Maggie Nash.

The rest of the team lined up and each player walked through their teammates, hugged their coach, and walked onto the field, to stand with their families beneath the humming lights of the stadium. The crowd cheered, and so did the team. Some of the crowd cried, and so did some of the team.

There was one half left, though, and things started to get heated. Lenoir City scored a goal less than five minutes into the second half. Anderson County, normally a team that comes alive in the second half, seemed distracted and almost somewhere else.

But not in the first minutes of the second half.

With 28 minutes left in the game, though, Anderson County rallied and Natalie Bartley, using her head in the most literal sense of the term, scored for Anderson County. After a penalty kick bounced off the top of the goal, soaring straight up into the air, Bartley batted it in with her forehead.

For 26 minutes, neither team could get an edge. Though both teams had serious shots, some of them incredible to watch, both teams' keepers kept the score stagnant at 1-1.

With two minutes left in the game, though, a drive by Lenoir City made it past Wetherington to put Lenoir City up 2-1. With two minutes left, the Mavs tried to put together a final drive, but fell short. The clock hit zero, the refs blew the whistles – it was over.