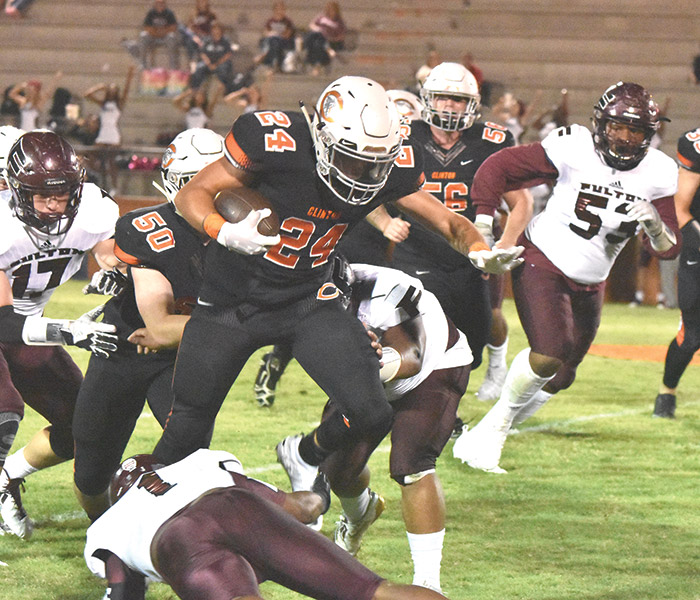 Clinton hosted Fulton on Friday, Oct. 11 and came up on the short end of a 36-13 final score.

The score was one-sided from the start, with Fulton scoring two touchdowns in the first quarter, including one on the first possession of the game. By the end of the first quarter, Fulton was already up 13-0.

Clinton came alive in the second quarter as both teams began to snipe at one another and argue. The penalties, personal and not, bogged down both teams. Clinton pulled seven penalties for 66 yards, while Fulton pulled 10 for 105 yards.

Multiple times, teammates on both teams pulled their own players away from confrontations that were spiraling.

On the Dragons' final possession of the half, they drove it down the field to score with zero time left on the game clock after an 18-yard pass to Evan Winchester from Trace Thackerson.

After the Falcons scored early in the second half, Clinton received a kickoff deep in Dragon territory.

On the first play after receiving the ball, a Fulton defender hit the Clinton ball carrier so hard that the ball ejected from his arms, landing directly in the hands of a very surprised Fulton player, James Coleman, who returned it for seven yards to put Fulton in the red zone for another score less than 10 seconds after the previous one.

Fulton scored twice in the third quarter with only 14 seconds passing on the game clock, putting them up 26-7.

Clinton managed to score again with 2:30 left in the fourth quarter after a fantastic 34-yard pass from Thackerson to Edwin Resendiz, leaving the final score at 36-13.

Clinton managed 99 yards from 34 rushing attempts against Fulton's 197 yards across 27 attempts. Conversely, though, Clinton dominated in the passing game, grinding out 182 yards to Fulton's 93. Where the tone of the game shows, though, is the total yardage and total plays. Clinton, across 53 total plays, crossed 281 yards, while Fulton, across 47, carved out 290. Fulton managed to cobble together only nine more yards.

The two teams weren't incredibly mismatched and one wasn't clearly better than the other, despite the message on the scoreboard.

It was a winnable game for Clinton, but mistakes cost them.

Two sacks and five fumbles – those add up, and they did.

Coach McKamey said it best going into the game.

"We're pretty banged up. Five road games was tough."

Hopefully after a week's rest, they'll come back refreshed and ready to try again.

Clinton is on a bye week this week. Their next game will be at home against Campbell County on Oct. 25.