Anderson County playing for state title at TSSAA tourney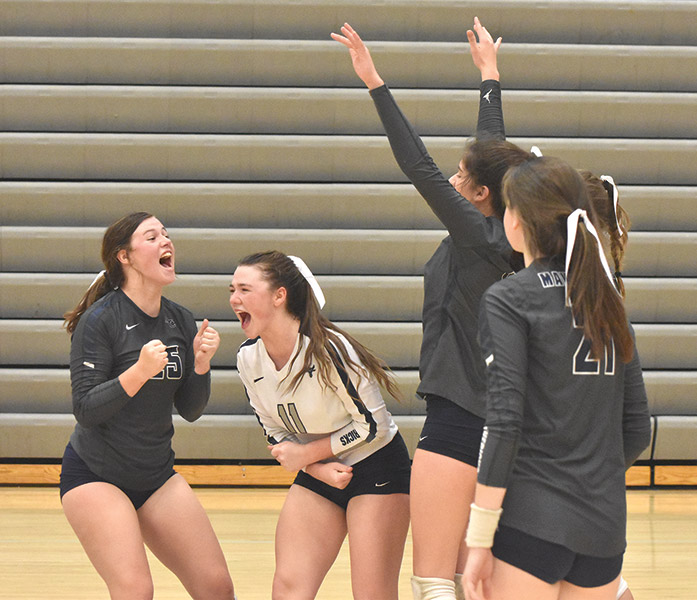 Anderson County's volleyball team won 3-0 and will advance to the second round after hosting the Elizabethton Fighting Cyclones on Thursday, Oct. 17, for the first round in the state championships.

The game was a much different beast from Anderson County's games against Gibbs. Where the Gibbs matches were both fast paced and aggressive, Thursday's game against Elizabethton, while still fast, was dramatically slower.

Gibbs gave a strong showing against Anderson County in its last match, even beating them one set.

This time the Lady Mavs used a different strategy, opting for fewer aggressive spikes in favor of misdirects and light tips to bump the ball over the heads of defenders.

The strategy seemed to work phenomenally.

Elizabethton was caught off guard again and again by the misdirects and light tips.

Spread out along the back line and expecting massive, powerful spikes, they had to scramble forward each time to try to simply keep the ball up.

Scrambling to keep the ball in play left them with very little room to set up attacks, and the Fighting Cyclones suffered for it.

Don't take that to mean the game was boring or one-sided, though. The Fighting Cyclones took early leads multiple times, and both teams had incredible saves throughout the night.

Multiple times, quick lunges, quicker thinking, and team coordination saved balls that should have been dead. From an outside perspective, that team coordination looked ingrained to the point of instinct, where players were just where they needed to be – always.

The final set was where things began to get one-sided. After losing an early lead in the second set, the Fighting Cyclones seemed to lose their fighting spirit in the last set.

Anderson County took an early lead and held it the entire set, pulling further and further away from Elizabethton until that final point that sealed both the game and the Lady Mavs' advancement to State.

The final scores for all three sets in order were: 25-15, 25-20, and 20-14.

Anderson County traveled to Murfreesboro to face off against East Hamilton for their next game. That game was scheduled for 11 a.m. Tuesday, Oct. 22. Results were not available at press time.