Clinton's singing McKameys will give final concert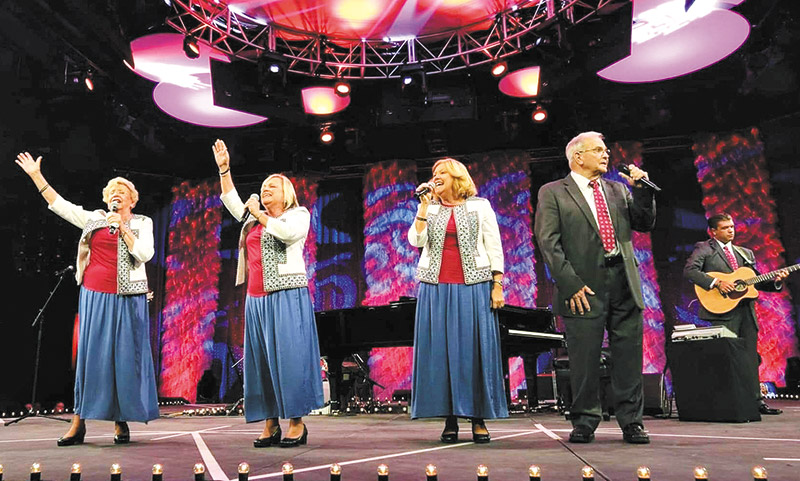 After 39 years of full-time traveling across America performing gospel music concerts, Clinton's singing McKameys are calling it quits.

The McKameys' retirement concert will be held at 6 p.m. Saturday at the Knoxville Civic Auditorium.

After that, their constant traveling will come to an end, the group's manager and longtime performer Ruben Bean said Tuesday from the McKameys' headquarters on North Charles G. Seivers Boulevard in Clinton.

"The old body starts to wear out," said Bean, who is 78. "Our plans are to come off the road for now. We've just got to slow down."

This family of Southern gospel singers consists of six performers: Bean; his wife, Peg McKamey Bean; their two daughters, Connie Fortner and Sheryl Farris; Connie Fortner's husband, Roger Fortner; and Eli Fortner, son of Connie and Roger Fortner.

All but Sheryl Farris live in Clinton; she lives in north Georgia near Chattanooga, where her husband is full-time pastor of a church, Bean said.

Although the group is retiring from full-time travel and performing, they're not ruling out more concerts at some point, Bean and Connie Fortner said Tuesday.

"We're going to keep the door open," Bean said. "We're just going to have to take a slower pace. Travel is grueling."

In their nearly four decades on the road – since they began traveling full time in 1980 – the group has performed perhaps as many as 6,000 concerts, Bean said, all across the United States and even in Canada. They travel in a 45-foot "entertainers' coach" and have a full-time driver, he added.

"The concerts are different every time," he said. "It's tiresome but it's enjoyable. Most of the driving is done at night. We try to get some sleep, at least as much as you can while riding in a coach, but it's hard.

"We announced a year ago at the national quartet convention that this would be our last year of fulltime touring," he said.

"It's bittersweet, and it's going to be a hard time for us. We have a huge fan base. But it has to be."

Connie Fortner said the family will get together over the coming holidays to talk about the future, and she said they have not ruled out continuing to sing in some capacity.

"I don't like the idea of quitting right now, but that's the way it needs to be," she said. "We're retiring from full-time travel. We're mentally ready."

As for the future, "I'm excited to see what's next," Fortner said. "I hate to see it end. But God's got the plan. We've always followed him. Through the holidays we'll sit down and talk. Some of our fans have suggested that the younger members of the group might take over, but I've been traveling and singing with Mom and Dad for 47 years."

The group's singing goes well back from when they began touring full time in 1980. Bean said his wife was already singing with her two sisters when the two of them met.

The group's retirement isn't because of any health issues, Connie Fortner said.

"It's just getting harder with age," she said. "It's Mom's 65th year [of performing]. It's just getting harder with age. The traveling takes a toll on you, and the body starts telling you it's time to slow down."

As for the younger members taking over, Connie Fortner said, "We're not ruling it out. But it's a big undertaking. This is a business; it's a lot more involved than just singing. My sister lives in Georgia and her husband pastors a church, so she would have to back down some. She would like to continue, but maybe on a lesser scale.

"She does a lot of the songwriting," Fortner added. "We've been blessed with great music, and she does want to continue to write."

Information about The McKameys and this Saturday's retirement concert can be found on their website at mckameysonline.com/home.