Dragons fall to Wildcats 77-53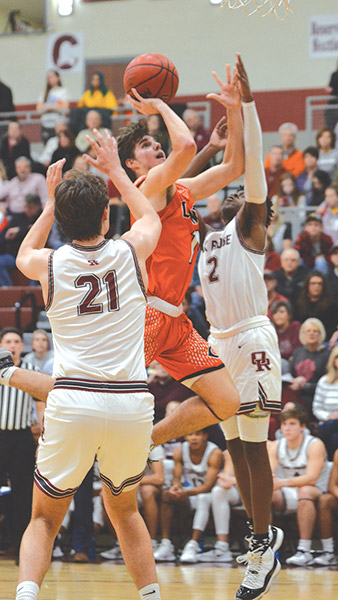 Clinton High School basketball teams had problems executing on the road at Oak Ridge last Friday, resulting in two one-sided losses.

The Oak Ridge boys remained undefeated in District 3-AAA as they played all phases of the game well in rolling to a 77-53 defeat over the visiting Dragons. The Lady Dragons earlier suffered through a rough game with the Lady Wildcats as the latter easily prevailed 69-32.

Dragons Coach Chris Lockard said the loss set his team back in preparations for the district tournament starting in two weeks on this same Oak Ridge court.

 "All the progress we've shown in recent weeks wasn't there tonight," said Lockard, whose Dragons fell back to the .500 mark at 11-11 while standing 9-3 in the district standings. "We almost beat them at our place in December, but this game was nothing like that. Oak Ridge started scoring on us early and often and we couldn't respond. This is a disappointing loss – especially the way we played. It was our worst performance of the season."

The Wildcats were up 8-0 before the Dragons hit a bucket more than three minutes into action. Thanks to three Oak Ridge treys during the first eight minutes, the Wildcats led 21-6 after one period and 39-14 at halftime. The Dragons put together a five-point streak midway through the third period to pull within 21, but then the Wildcats regained momentum and were up 61-32 after three periods.

"When we went there in December, we weren't ready to play," said Oak Ridge Coach Aaron Green. "Our players came to play tonight. Clinton has a better team than this, but not much went their way.

Lockard went into this game viewing it as a barometer for measuring the Dragons' status as they are two weeks away from the district tournament.

"I thought we are a better team than this, but now we know we have a lot of work to do in getting ready to be competitive in the district tournament," Lockard said.

The Wildcats finished with 10 three-pointers, led by Jonathan Stewart's seven on the way to a team high 25 points. Evan Winchester topped the Dragons with 16 points, including two treys. Chris Lockard also made two three-pointers on the way to 11 points.