Rocky start against Karns doesn't rattle ACHS Boys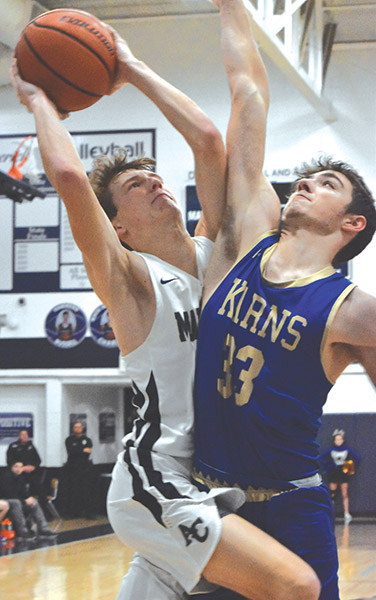 After rough first quarter, Mavs fought their way back from 14-point deficit for a strong win in a heated game.

The Mavs hosted Karns on Tuesday, Jan. 28 for a rematch after their overtime loss to the Beavers earlier this month. The final score was 54-44.

The game started off rough for Anderson County, with the Mavericks quickly falling well behind as they struggled to hit shots and struggled with early fouls and turnovers. At the end of the first, the Mavs were down 8-20 and it looked like it would be an easy win for the Beavers.

The low point for Anderson County came when Maverick player Nick Reed was ejected from the game following an altercation on the court resulting in a technical foul and a personal foul. The Mavs were slowly closing the gap in the second quarter and the two fouls combined gave the Beavers four foul shots.

Strangely, instead of rattling the Mavericks, it lit a fire under the players. At the same time, Karns began to fall apart, missing shots and pulling fouls left and right, including a technical on Jaden Brown. With momentum under their belt, the Mavericks climbed into the lead early in the fourth quarter – their first time holding the position all game.

Karns tried to find their footing again, but between the fouls and the Mavericks rattling them with steals and quick layups, the team couldn't reorient itself. One of the most impressive steals came from Maverick player Carter Jett sweeping in from the side while the Beavers threw the ball in, catching the Beavers and most of the gymnasium by surprise for a quick layup.

Speaking of Carter Jett, he led the team in points for the night, finishing with 14 points by the end of the night, including two assists. Most impressive, though, was how, in a foul-heavy game, he came away with zero. He was the only Maverick to do so.

Behind Jett, Connor Martin brought in a respectable 12 points, including the only two treys the Mavericks made.

Ultimately the Mavs won out because they started hitting their shots, finishing with an effective field goal percentage of 44-percent, which would have seemed impossible in the first quarter. The Beavers couldn't keep Anderson County out of the paint and that was a fatal mistake, as the Mavericks gained 32 of their points from that position.