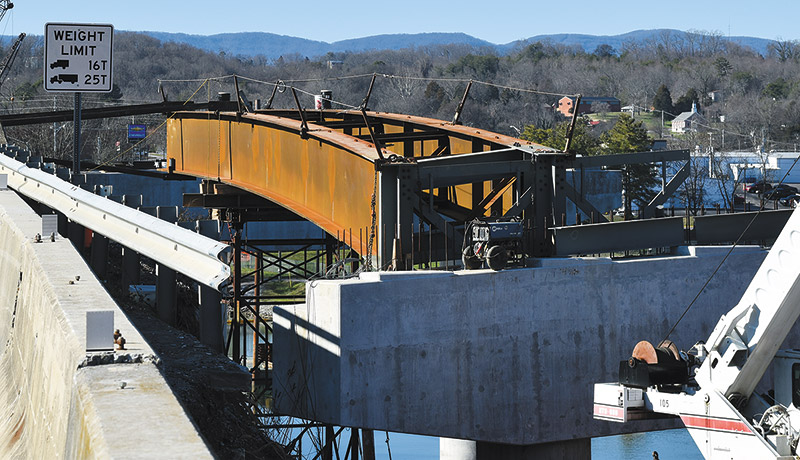 Now it's starting to look like a bridge.

That's the latest news on the 36-month project to construct a new bridge to carry Clinch Avenue traffic over the Clinch River, as crews last week began installing the long steel girder beams upon which the roadway will rest.

The first beam – weighing about 52,000 pounds (26 tons) – was hoisted into place from the south side of the river on Thursday (Feb. 13), and by Friday afternoon, another one was in place.

Special tractor-trailer rigs began bringing the beams into Clinton one at a time about two weeks ago, and as they are prepared for installation, each one is first lowered by crane to a barge on the river below.

The bridge is scheduled to be completed next year, and then the one it replaces, the Lewallen Bridge (also known as the Green Bridge), will be demolished and removed

Below is a report from the city of Clinton, released Monday, on the status of the project halfway through the process:

"At month 18 of the 36-month project:

"Structures:

"(Recall that eight bridge structures are being built, consisting of six piers and two abutments, numbered from north to south).

"Abutment # 1 – Due to the previously reported problems with a slide, additional engineering/design work is required before construction on this abutment may begin.

"Work should commence within the next 30 days.

"Pier # 1 – Complete.

"Pier # 2 – Complete.

"Pier # 3 – Complete.

"Pier # 4 – Complete.

"Pier # 5 – Complete.

"Pier # 6 – Complete.

"Abutment # 2 – Complete.

• "Twelve steel girder beams have been delivered, and their installation is currently underway. The first beams being installed are on the south end of the project, between piers 5 and 6.

• "Each span (the space between two piers) will have nine girder beams sitting on the piers. Installing the girder beams is a very technical and labor intensive operation, and will take several months to complete (the first individual girder beam installed weighed 52,000 pounds).

• "Once all the girder beams are in place, crews will begin installing bridge decking and reinforcement steel across the girder beams, in preparation for concrete pours."

The TDOT Lewallen Bridge Replacement Project began on Sept. 17, 2018, and is scheduled for completion by Aug. 31, 2021, said Lynn Murphy, the city's project coordinator.