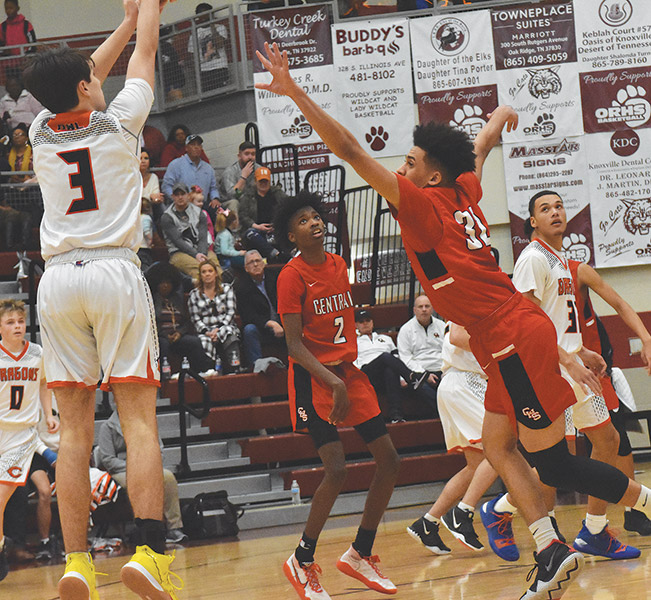 The Clinton Dragons secured an interesting date Tuesday night. The setting: The Distrct 3AAA championship. The dance partner: Oak Ridge High School.

Clinton played in

the semi-finals against Central High School last week. The game was the third encounter between the two teams, with Clinton coming away with a third win against the Bobcats after the game ended 42-40.

Clinton took an early lead in the first quarter, quickly rising into

a comfortable position after multiple treys. It looked as if it might be a quick one, but Central found their footing as Clinton began to miss their shots. The rest of the game was a slugfest between the two teams, with Clinton struggling to hit their shots beyond the trey line while Central struggled to break through Clinton's defenses and into the paint.

The second half started with Central leading and the Dragons on shaky ground after missing multiple free throws and multiple shots that seemed perfect, only to bounce inside the rim before jumping right back out of the net. The crowd

got involved too, with several Central parents making themselves conspicuous by standing up and loudly shouting colorful remarks at the game officials.

The fourth quarter saw both teams struggling to hit shots as they tried to edge one another out. With less than a minute left on the game clock and both teams tied at 40-40, Central drove down the court, taking their time to run the clock down before shooting. They used almost the entirety of the final minute, only to be blocked when they finally did shoot by Trace Thackerson, who slapped the ball down and dropped it into

the hands of Jackson Garner. Garner drove down the court, only to be fouled on his layup. Clinton was given two foul shots, and with how they had handled foul shots the entire game,

it was unsure whether Garner would make

them or not. Central

made it extra difficult by burning their time outs, hoping to unnerve him.

It felt like all the air had been sucked from the

gym as everyone held 010120 their breath. Fortunately for the Dragons, though, Garner rose to the occasion, sinking both free throws. There were three seconds left on the clock. Just beyond the trey line, they shot – only for the ball to bounce sideways off the rim as that final buzzer rang.