CHS overcomes halftime deficit vs. FHS with 30-point third quarter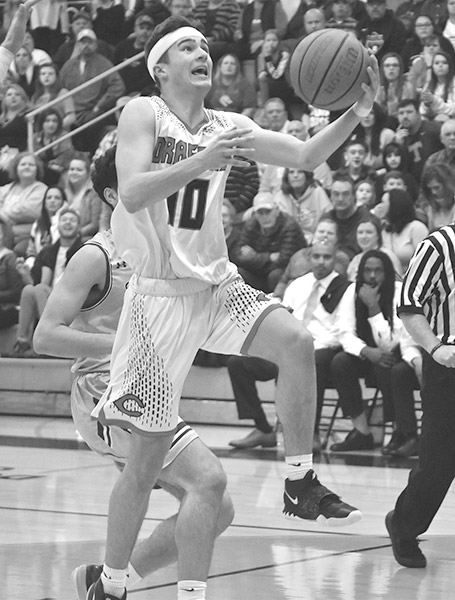 No worries.

Clinton hosted and beat the Farragut Admirals on Saturday, Feb. 29, for the first game of the region 2-AAA tournament. The final score was 73-61.

The game was close from the beginning, with the Dragons edging out the Admirals in the first quarter 9-8.

After that, though, it was feast or famine for the teams as the Admirals gave a strong answer in the second, beating out Clinton by nine points to finish the half ahead by eight points.

Although the Dragons went into halftime behind, they came out swinging in the opening minutes of the third period, closing the gap by scoring 30 points while holding Farragut to only five.

The hot streak unnerved Farragut, who struggled to regain the earlier confidence as Clinton continued to pull away. It wasn't until the fourth quarter that the Admirals began to compete again, hoping to close the gap.

Fortunately for the Dragons, that wasn't to be.

When the Admirals' second-highest scorer fouled out in the fourth quarter, that sealed the game for Clinton.

The entirety of the final quarter passed slowly with both teams trading fouls as Farragut tried to hold the clock as long as it could.

Jackson Garner and Trace Thackerson led the Dragons, with Garner pulling an astonishing 30 points, including making 15 of his 16 free throws. Garner also finished with four assists and a steal, and had four fouls in his 33 minutes of playing time. Thackerson finished with 15 points and two defensive rebounds.

Evan Winchester, the de facto lead man for the Dragons for most of this season, managed to step back into the game for a time after an ankle injury earlier this season.

Although Winchester didn't play for long, the eruption of applause when he walked back onto the court spoke volumes for just how much his team, and the community at large, missed him.

Other standouts for the night were Trace Wandell, with his 13 rebounds and two steals, and Chase Lockard, with six rebounds.