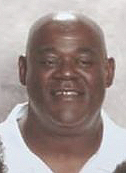 Most people in Clinton woke up Monday morning and started their day and work week like any other.

As the day progressed news talk in Clinton did not center around viruses or countries closing borders; the actions and words of presidents and kings took a back seat.

The sun came out, but it didn't seem as bright as it normally would.

Everything paled in comparison with the loss the city of Clinton was discovering as the day wore on.

Chester "Terry" Benjamin died Sunday night at his home.

Benjamin was the big, quiet guy — the one you always depended on.

"We all here at the city of Clinton are very saddened at the passing of Terry," Clinton City Manager Roger Houck said Monday night.

"He will be missed in so many ways; as a coach, co-worker, Optimist Club leader, but most of all as a friend. He has been a dedicated employee with the city of Clinton's Parks and Recreation Department for 24 years serving as a monitor, outdoor maintenance worker, and for the last two years as the maintenance supervisor.

"However the two things Terry enjoyed most in life were coaching youth football and his family. Terry was the model employee and citizen to our city."

Whether he was on the sidelines coaching youth football or on the sidelines at Clinton City Field the day of the Clinton High School Dragons' home opener making sure the field was perfect, Benjamin was a reassuring presence.

"I can't believe he's not here," Mark "Tank" Scarbrough said Monday. "I talked with him last (Sunday) night about one of the fields. That's Terry — he knew everything about Clinton's recreation facilities."

Scarbrough worked and volunteered through Clinton Optimist with Benjamin for 20-plus years. In fact, Scarbrough said, Benjamin is the one who gave him the nickname, "Tank."

"We played softball together and he stuck me with that," he laughed.

Bejamin was an Oliver Springs native. He played a year of college football, Scarbrough said, but he never talked about it.

Benjamin's focus was always on the kids he was coaching and mentoring. It was never about himself.

And he will be missed.

"Regardless where you saw Terry, he was always in a good mood and had a smile on his face," Clinton Mayor Scott Burton said.

"He was the backbone of the Clinton Recreation department for more than 20 years. Terry left some big shoes to fill in the Recreation Department, as well as the Optimist Football Program. He will be missed."

Benjamin's funeral arrangements were not completed by press time Tuesday. Holl-Gamble Funeral Home in Clinton is in charge of arrangements and as soon as they are available they will be posted on the funeral home's website, as well as The Courier News website.

Benjamin leaves behind his wife, Emma Golden Benjamin, two adult sons, and a city.