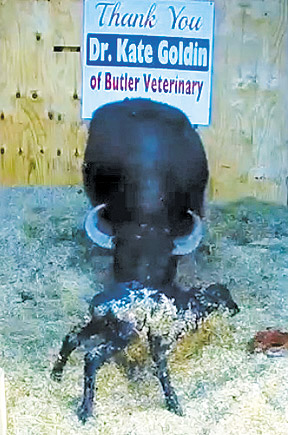 Last Saturday morning marked the arrival of the first Asian water buffalo calf born at Clinton's Little Ponderosa Zoo and Rescue.

The event was witnessed by nearly 200 people who signed on for the live video feed of the birth on the zoo's Facebook page and website. The male calf popped out completely at 8:36 a.m. after a relatively short labor for mom Tinkerbelle.

The zoo had noted on its Facebook page at 7:57 a.m. Saturday that the mom-to-be was in labor, posting: "Everyone tune in! Tinkerbelle is now in labor! Hooves have been spotted! We are about to have a baby water buffalo!"

After the birth, the baby stood up and stayed on his feet for a while for the first time, at 9:04 a.m., showing that he was healthy and ready to roam.

At 9:06 a.m., the zoo posted this notice on Facebook:

"We want to thank everyone for their support in the journey to bringing this sweet water buffalo calf into the world. We just want to give an update that we are monitoring the new mom and calf closely and working with Dr. Kate Goldin on the new mom and baby. Dr. Kate Goldin will be giving a checkup on the pair later today also, to make sure all is well."

A resident of the zoo for nearly five years, Tinkerbelle was impregnated nearly a year ago by a young Asian buffalo bull who was able to knock down a fence and get to her, Cox said last week.

During a visit to the zoo about three weeks ago, veterinarian Goldin, from Butler Veterinary Services of Hardin Valley, performed an ultrasound exam and determined that Tinkerbelle was no more than about three weeks from delivery.

It was just after that when the Little Ponderosa started the live video stream from Tinkerbelle's indoor enclosure so fans of the zoo could witness the birth.

As soon as the baby is up to it and the weather is nice, both mother and baby will be put on display in an outdoor space at the Little Ponderosa, Cox said.

The decision on when that will happen will be made by the veterinarian.

In the meantime, though, "We will be looking for the community to help us choose a name for the baby," Cox said.

Both Tinkerbelle and her male friend came to the zoo as rescues, he said earlier.

"We had no intentions of Tinkerbell having a baby, but the bull came in on a rescue and found a way to break through the fence," Cox said.

Several babies have been born recently at the Ponderosa, including an alpaca, twin lambs, and a bunch of very cute little goats.

Most of them can be seen in videos on the zoo's website or Facebook page.

The Little Ponderosa, which is still recovering from a disastrous fire two years ago, now has about 700 animals that it feeds every day, and it's always looking for donations of money and feed to achieve that task, Cox said.

The zoo, at 629 Granite Road, is open to visitors 10 a.m. to 5 p.m. Monday through Saturday and noon to 5 p.m. on Sundays.

Regular admission prices are $15 plus tax for ages 18-64; and $10 for juniors (3-17) and seniors (65-plus). Children under 3 are admitted free.

Buckets of feed are available for purchase for zoo visitors to give to many of the resident animals.