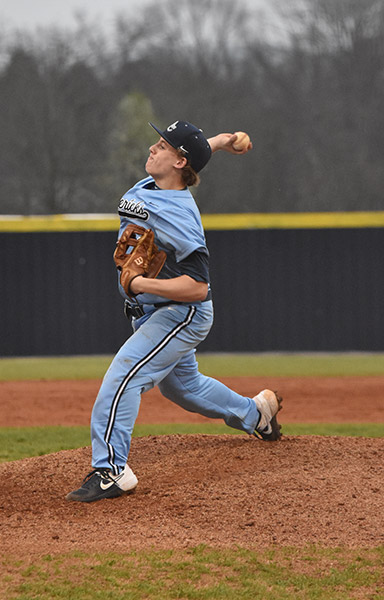 The mavs traveled to Karns for the first game on Monday, March 9, taking a hard 6-0 loss against the Beavers.

The Mavs managed four hits, with Tanner Goins walking away with three quality at bats, but couldn't push a batter in.

Eli Varner and Hudson Hartgrove pitched for the Mavericks, with Eli Varner finishing with 14 first-pitch strikes and six strikeouts, while Hudson finished with seven first-pitch strikes and two strikeouts.

The Mavs walked way from that game with a hard loss to start their league play, but when the two teams met again two days later, the mavs were ready, taking an early 4-1 lead in the first inning and finishing with a 13-8 win, despite fewer hits than the Beavers and three errors.

Tyler Phillips and Connor Martin both pitched for the Mavericks, with Phillips managing 16 first-pitch strikes and three strikeouts, while Connor Martin finished with nine first-pitch strikes and a WHIP (walks plus hits per inning pitched) of 1.67.

At bat, Luke Lowry came away looking good with four runners batted in, while Tanner Goins and Isaak Ridenour each had four quality at bats.

Finally, in their last game before the quarantine and cancellation of school across the area, the Mavericks hosted the Pigeon Forge Tigers in a low-scoring game that ultimately ended with Anderson County winning 2-0.

It was a game full of errors, with Pigeon Forge coming away with only two hits and three errors and Anderson County finishing with only a single error, but only three hits.

At bat, Tanner Goins was the only one with a runner batted in, while Hudson Hartgrove walked away with a hit as well. Meanwhile, Pigeon Forge finished with the most quality at bats and the most walks.

On defense, Hartgrove and Lowery pitched for the Mavericks, with Hartgrove taking the lead for the game and finishing with 10 first-pitch strikes and seven strikeouts, finishing with a WHIP of 1.40. Lowery, meanwhile, finished with two first-pitch strikes and four strikeouts, as well as a fantastic WHIP of zero.

Of course, baseball, like all other sports, is canceled until further notice due to the quarantine.

But, when the Mavericks finally retake the field after all this is over, we can only hope that the time away hasn't cooled the momentum that these two wins have given them.