Moore's Gap UMC set to close its doors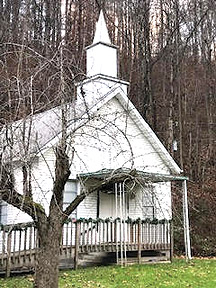 It's a sad truth.

"Churches have life spans just like people do," Moore's Gap United Methodist Church Pastor Heidi Parunak said this week.

Moore's Gap UMC, one of the oldest congregations in Anderson County, will be shutting its doors soon.

A meeting was scheduled for April 5 to hold an official vote on closing the doors to the 150-year-old church, but with the COVID-19 threat sweeping the country, that vote has been put off until … well, until it can be held.

Parunak has been pastoring at Moore's Gap for several years — she initially took the post on a temporary basis, but was asked to sit in permanently after one year.

"It's a precious little church," she said. "And these are precious people."

The problem is there are too few of those precious people attending the church.

"It's a hard decision that had to be made," she said.

In a letter dated March 12, Parunak noted, "Our pews are not as full as they used to be."

She said there are about five people who attend the church on a regular basis.

"When raising money to keep going becomes a church's main mission, then you have lost the real mission of the church," she said. "The church's mission is to spread the word of salvation and make disciples of Christ.

"When you can no longer do that, then you know it's time."

There is history at Moore's Gap UMC, a history Parunak hopes will be preserved in some fashion.

"This is heart rendering for me. I can't imagine what it is like for people who's life has centered around this church.

"I ask myself, 'Did I do enough?' but the truth is families grow, they move away, and small churches truggle with that," she said.

"This is a very important landmark in this community," she said. "There has been a lot of outreach that has come from this church."

Moore's Gap UMC was once the site of Easter egg hunts and hayrides, family gatherings and weddings.

Now it sits empty mostly — a reminder of a different time.

And maybe God is speaking because a final vote on the fate of the church can't be taken right now.