Season still not set, but 'hybrid plan' is selected for 2020 play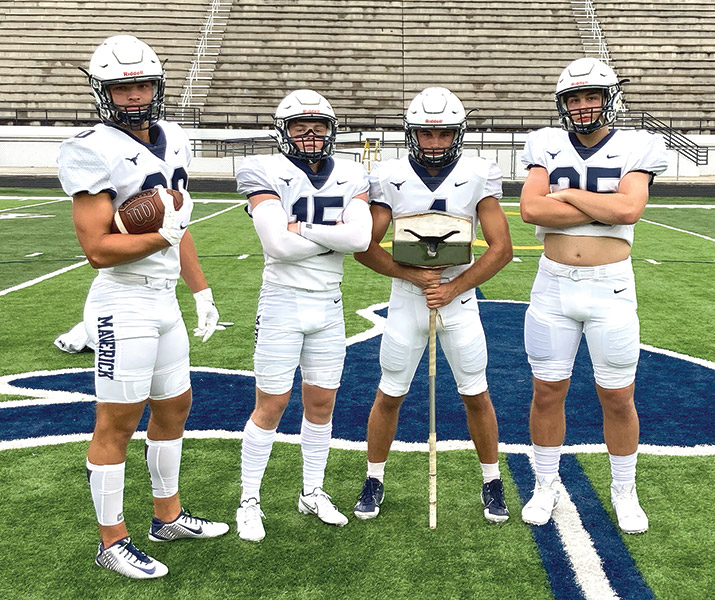 The TSSAA chose the second of it's plans to move forward with high school sports, a hybrid plan that moves the football season closer to opening.

It gives football a sliding scale to begin with, and, if Governor Lee grants an exemption for high schools giving them the ability to start full practice by Aug. 3, then Clinton and Anderson County can still open with their historic "Battle of the Bridge" game at the end of August.

If the start date for full practice is pushed further back to Aug. 10, Anderson County will start the season in September with their second opponent this season, Powell, and if it's pushed back even further to Sept. 17, the start of the season for Anderson County will be against Hixson.

If the date that schools can start full practice is pushed all the way back to the current expiration date of the governor's executive order, then the earliest game for the season will be Sept. 21. Unfortunately, as of writing, no one but the governor knows when or if football will be released for full contact, so it's difficult to say when the season might start.

Gary Terry, athletic director for Anderson County High School, said he's sure the governor will do what is best.

"I am thankful TSSAA made a decision to move us forward and I am confident that Governor Lee knows how important athletics is to our kids and community."

The hybrid plan attempts to preserve the potential for a 10-game season and full playoff format, but also lays the groundwork for what might happen if that isn't possible.

Football teams were allowed to begin their heat acclimatization this past week, which can be done without contact, and Richard McWhirter, the TSSAA Assistant Executive Director, recommended that schools go through the necessary acclimatization steps as soon as possible.

The new plan also clarifies how a Covid-19 outbreak will be handled in regards to cancelled games. A regular-season game becomes a win for the team unaffected by the outbreak, but only for seeding purposes. The team affected by the outbreak receives neither a win nor a loss, and if both teams are afflicted with outbreaks at the same time, the game is judged as a "no-contest."

Other sports, such as cross country, golf, volleyball, and girls' soccer, will allow students to continue to participate in said sports, even in school systems who have moved to remote instruction, which will be an important decision for hard-hit counties that are considered outbreak "hotbeds" such as Nashville and Knoxville.

In particular, for girls' soccer, the TSSAA board voted to begin the season on Sept. 7, as long as Governor Lee's order is lifted at it's current expiration date, and have a regular season spanning eight weeks. It also allows girls' soccer teams that do not qualify for a postseason or which are eliminated early in the post-season to schedule additional games in order to give those teams a "full" season. The reasoning behind this is to build in flexibility in case of cancellations or postponed games whether or not those cancellations are due to Covid-19.

The TSSAA website posted the following:

"What the association does not yet have is an exact start date for competitions. The reasoning there is fairly straightforward: Tennessee high schools and their athletics programs, as well as myriad other entities, cannot begin practices and/or games in contact sports under Gov. Bill Lee's current State of Emergency Order. Executive Order No. 50 promotes "social distancing and avoidance of large gatherings" and limits activities in contact sports.

"We are working hand-in-hand with the Governor's Office," Childress said. "Everything presented today has been vetted by the Governor's Office, agreed upon by their legal counsel and by our legal counsel.

"The governor's (executive order) is still in place. We cannot do anything right now other than weightlifting, conditioning, heat acclimation periods with no contact. This is not TSSAA vs. the Governor's Office. Everything has been a joint effort and we are not in conflict. Our goal is to have an ordinary season as much as possible."

"For football's "Option 2 Hybrid" plan, the state preserves the potential for an 10-game regular season and full playoff format, but also lays the groundwork for what could become an eight-game season with a reduced playoff field for Division I.

"The plan perhaps is most succinctly summarized as thus: Once the state of Tennessee reaches the date of Aug. 4 and the governor's executive order declaring a State of Emergency still stands, region games originally scheduled for Week 1 of the prep football season will be moved to later, common dates that TSSAA already has modeled. As each week passes where no contact is allowed, the next week's region games are rescheduled.

Additionally, the Board of Control approved a set of regulations for teams to follow not only during the fall sports season, but for the remainder of this pandemic. Those guidelines include temperature checks, mandatory COVID-19 screenings at least once a week, and a ban on scrimmages, jamborees, 7-on-7, or other types of practices with other teams.

• Temperature checks are needed for all player/coaches/personnel before practice. A temperature above 100.4 sends the person in question home, they can't return until getting a negative COVID-19 test or a doctor's note.

• No coach/player/personnel can compete in a contest or practice without going through COVID-19 screening. Focus for these will be weekly. Standard COVID-19 symptoms.

• No scrimmages, jamborees, 7-on-7 or other types of practices with other teams. Only official contests. Off-season practice for other sports must remain non-contact

• At contests: coaches, players, team personnel, officials, administrators and fans must have their temperature checked before entering the facility. If they have a temperature about 100.4 degrees, they will be turned away.

• At each contest, a symptom checklist shall be posted prominently for spectators.

• At contests where fan attendance is permitted, member schools are encouraged to limit fan attendance to a number that will allow for adequate social distancing. (ex. 1/4, 1/3 of capacity)

• Member schools will require that all fans wear facial coverings at all times while on-site (except children under age 2) and maintain social distancing

• Temperature checks and symptom questionnaire applies to members of school band, pep band and cheerleaders

• If there is a public address system used, the host school will make announcements, reminding spectators about physical distancing.

• Host school is responsible for providing staff to frequently clean and sanitize areas.

• Concessions stands are discouraged. This is not a mandate, but if concession stands are done, they recommend social distancing, masks and call-in orders

• All coaches must complete the free NFHS online course "COVID-19 for Coaches and Administrators" before the first contest.