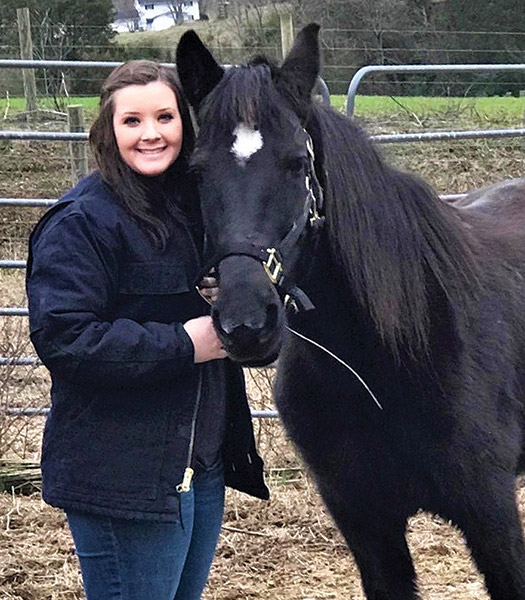 Recent Roane State grad Jacey Queener had her hands full this past spring between studying for finals, tending to a barnyard full of farm animals and working as a student ambassador for the Roane State Foundation – all while adapting to changes brought on by the coronavirus pandemic.

But she handled all those challenges coolly as she eyed what's next: online courses at the University of Tennessee-Martin, on her way to a bachelor's degree in agribusiness.

Queener, 19, is the daughter of James and Connie Queener. The family owns and tends farmland in Anderson County's picturesque Dutch Valley community several miles outside Clinton.

Farm chores include the daily care and feeding of horses, cows, pigs, goats, rabbits, cats, donkeys, dogs and chickens. With those responsibilities, things can get hectic, Queener said.

Last fall, she found herself on the road, driving each day to the University of Tennessee Veterinary Clinic to check on two ailing goats and a horse, then heading back to Roane State as a final exam loomed. "It was hard, but I managed," Queener allowed.

Queener graduated from Clinton High School in 2018, and the next step seemed natural. She enrolled at Roane State. She said friends and relatives "said it was a good school." The proximity to home was also a factor, along with the Tennessee Promise scholarship which covered the cost of her tuition. "I'm glad I chose Roane State, because I feel it fit me best," she said.A bit anxious at first about college, Queener was elated to make the Dean's List as a freshman. She also was named to Phi Theta Kappa, the honor society for high-achieving community college students. She was a recipient of the Stephen L. Coffey Scholarship, named for the late son of David Coffey, one of Roane State's biggest supporters and an emeritus member of its foundation board.

Queener says she struggled a bit with biology and geology during her first year. "I'm not real great at science, but I'm getting there," she said.

She credited Claudia Cummings, associate professor of biology, for her assistance. "I went to her office every day after class, and she helped me." They became friends, Queener said, and Professor Cummings consoled her when one of her horses died.

Another Roane State educator, adjunct English instructor Wendy Ann Bennett, opened a door for her, Queener said. Bennett encouraged her to apply to become a student ambassador for the Roane State Foundation, the nonprofit that raises money for student scholarships and other needs.

Queener said she helped in the office, located on the Roane County campus, and assisted in preparation for special events both on and off campus. She received a $1,000 scholarship for volunteering at least 40 hours each semester, Queener said. "It was a good experience, and I'm glad I did it."

During Queener's final semester at Roane State, the college had to move to an online learning format in response to the COVID-19 crisis. While the transition was not always easy, Queener persisted. "It was a bit challenging," she admitted, "but I worked through it."

With her Roane State days now behind her, Queener is preparing to begin her online studies for the agribusiness degree at UT-Martin. That should be of help around the farm, Queener said. The degree might also provide a path to a potential new revenue source – a special barn on the family's scenic farmland where events such as weddings could be held.