Store deals in repurposed and painted furniture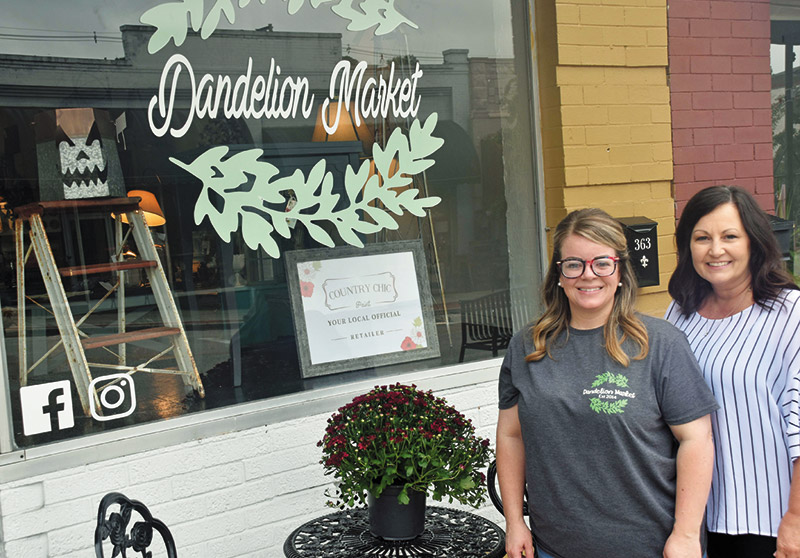 Another business has opened on Market Street in Historic Downtown Clinton: It's called the Dandelion Market.

The owner is Charity Helton of Maynardville, who formerly had a space for her business at the Clinch River Mercantile on Eagle Bend Road just over the railroad tracks from Market Street.

Dandelion Market, at 363 Market St., has nothing to do with dandelions or any other kinds of flowers or weeds, though.

"We sell repurposed and painted furniture and other home décor items, and we also do custom [furniture] painting," said Helton, who previously worked for 11 years in a dental office.

"The Dandelion Market is the business she has long dreamed of owning, she said.

She opened the store on Wednesday, Sept. 2., and the store hours will be 10 a.m. to 5 p.m. Wednesdays through Saturdays, she said.

Helping her set up the store and get it ready to open was her aunt, Regina Steiner, who was on hand when the door opened last Wednesday.

"I've helped a little, but she's done most of the work," Steiner said of her niece.

Also operating a similar business in part of the Dandelion Market is Christine Mallahan, Helton said.

"She has a space in her, with basically the same kind of merchandise," Helton said.

Helton said she has been felt welcomed by the other business people she has met on Market Street.

"That's nice when you're doing something like this for the first time," she said.

She has been in the antique and used furniture and home décor business for about four years, she said, including about two years with her booth at Clinch River Mercantile.

But this is the first time she's had her own storefront, and she said she's glad to be on Clinton's well-known Market Street.