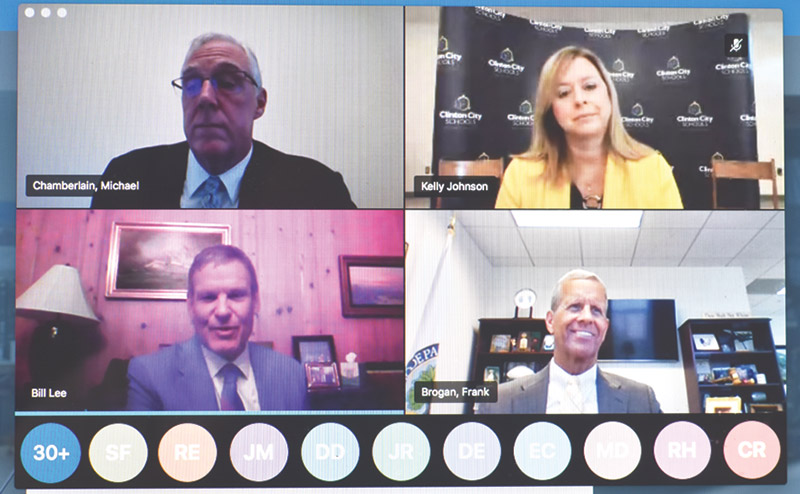 It started with two simple facts: Teachers were going to teach, students were going to learn.

It was all the planning and details in between March 12 and Aug. 7, 2020, that earned Clinton City Schools a unique recognition from the U.S. Department of Education.

Assistant Secretary of the Office of Elementary and Secondary Education with the U.S. Department of Education Frank Brogan hosted a Zoom tour of the Clinton City School system in recognition of the system's safe reopening and the plan it has put in place to achieve that.

"We didn't toss a coin," Brogan said during the Zoom meeting. "You earned it. It's a bigger deal than you might think."

Brogan said the U.S. Department of Education is going to "steal" a lot of Clinton City's planning and procedures and forward them as "strong suggestions" to school systems across the country as they struggle after reopening, or have struggled to reopen.

Praise for Clinton's reopening procedures was plentiful during last Wednesday's Zoom meeting.

Hearing from Clinton City Director of Schools Kelly Johnson, Supervisor of Curriculum and Instruction/Federal Program Lori Collins, and Supervisor of Special Education and Human Resources Suzanne Oliver, Brogan and a plethora of state and national educators were given a virtual tour of the Clinton reopening plan from when the system started the process in April.

"We knew we were going to have school," Johnson said.

The question was, what kind? Would it be virtual, online education, traditional brick and mortar (kids in class in a building), or a hybrid blend of virtual and brick and mortar?

The result was the hybrid options, although 94-percent of Clinton's students attend brick-and-mortar classes.

The key, Johnson said, was in the planning.

She said for four months Clinton City School System administrators lived in "four different worlds" as plans were made to open school in one fashion or another, but always with the goal of opening up with brick and mortar school.

"The community needed us to open back up with brick and mortar classes," Johnson said.

She noted parents have been supportive and enthusiastic about the reopening. S

She said parents are also being proactive. If a student may have been exposed to COVID-19 they have informed the school system and taken the necessary precautionary steps to ensure any contamination may not spread.

Johnson said the reopening of Clinton City Schools has been a community effort — that is has taken everyone involved to be able to do so safely, from the Clinton Board of Education and City Council, to the staff and administrators, to the parents.

Johnson said the bottom line was easy to figure out, easy to understand: "Students needed our teachers and our teachers needed our students."

The effort, as witnessed by the U.S. Department of Education highlighting the system Wednesday, has been noticed.

"They (Clinton City Schools) are a shining example for school districts in our state, an example for our country," Tennessee Gov. Bill Lee said during the Wednesday morning meeting.

Tennessee Commissioner of Education Penny Schwinn was even more enthusiastic: "Dollars to donuts, I'd put Clinton City Schools against any district in the country," she said.

Brogan said getting the tour of the Clinton City Schools' reopening plan and witness the success it has generated is something all schools systems should aim for.

"It has taken a community to come together to get these schools reopened safely," Brogan said.

"There is an urgency for education in the lives of our children, and this is not a spectator sport," he added.