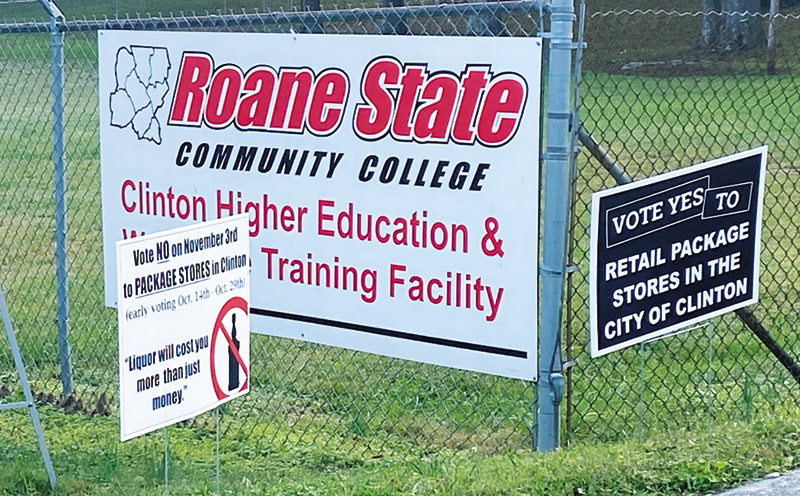 Nearly half of Anderson County's 47,348 registered voters had already cast their ballots through mail-in and early in-person voting as of Tuesday morning, two days before early voting was scheduled to end.

In what Elections Administrator Mark Stephens has called "a record pace," 21,990 ballots had been recorded before voting was to begin on Tuesday, with 19,126 of them machine ballots and 2,864 paper ballots, the county Elections Commission reported.

That's 46.44-percent of the total registered voters – more than double the number of early voters reported exactly a week earlier, after the first five days of in-person early voting.

What's perhaps even more significant is that the 21,990 early votes already cast amounts to nearly three-fourths of the total voter turnout of 30,502 ballots cast in the Nov. 8, 2016, presidential election, in which Republican Donald Trump beat Democrat Hillary Clinton.

In Anderson County in 2016, Trump outpolled Clinton by a 64-percent to 30-percent margin.

The 2016 election had only a 64.4-percent total voter turnout in Anderson County, but the 2020 pace seems destined to top that, perhaps significantly, if the current pace continues.

That's also the case nationwide.

The presidential election contest between President Trump and former Vice President Joe Biden seems to have spiked voter interest this year.

Fox News reported Tuesday that record numbers of Americans are voting early in the 2020 election "amid concerns regarding the coronavirus pandemic and U.S. Postal Service timing."

Anderson County's 46.44-percent early voting nearly mirrors the nationwide trend as of Monday.

Fox reported that 59 million early ballots had already been cast nationwide, compared with 43.1-percent early ballots at this point in the 2016 general election.

Nationwide, more than 40 million mail-in ballots and 19.4 in-person ballots had been cast as of Monday morning. Tennessee so far has seen a record 65-percent turnout of early voters compared with the 2016 vote totals statewide.

Early voting is setting records in so-called red states – those traditionally leaning Republican – with Texas leading the way at 80.2-percent turnout so far, compared with the total 2016 turnout, Fox. Reported. Tennessee is among the Top 5 states for early-voting turnout so far. The others are Montana (69.6-percent), Georgia (64.9-percent), North Carolina (65-percent), New Mexico (60.9-percent) and Hawaii (60.2-percent).

Some of those are among the so-called blue states, which traditionally lean Democratic.

Tennessee's early voting ends Thursday (Oct. 29), with the polls open at three locations in Anderson County:

• The Anderson County Fair Association Building, 218 Nave St., Clinton;

• Midtown Community Center, (Wildcat Den), 102 Robertsville Road, Oak Ridge;

• Anderson Crossing Shopping Center, 3310 Andersonville Highway, Andersonville. Hours for early voting are from 10 a.m.–6 p.m. Monday through Friday and 9 a.m.–noon on Saturday.

Tuesday (Oct. 27) was the deadline to apply for an absentee ballot in Tennessee.

"We encourage everybody to vote early," Stephens said earlier. "That makes Election Day more stress-free. It's a convenience factor. Normal turnout is about 65 to 70-percent, and it's going to be a little more than half who vote early this year.

"But a lot of people will still go vote traditionally on election day. It's something they always do."

There will be 27 polling locations open on Election Day in Anderson County.

For more information on where to vote, and to see a sample ballot, visit acelect.com, the county Election Commission's website.