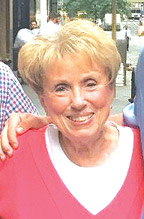 She was an educator and a business woman and she was respected for her accomplishments in both endeavers.

Margaret Ann Calhoun, 77, Clinton, died peacefully Oct. 22, 2020, at Methodist Medical Center of Oak Ridge.

Born in Guntersville, Ala., June 17, 1943, to Helen and A.B. Hammer Jr. It was there that her father and grandfather started the first Hammer's Department Store.

In 1961 she graduated as a valedictorian from Clinton High School, then attended Lincoln Memorial University, where she graduated as a 1965 salutatorian. While attending college, she met Don Calhoun. They would marry and spend 56 years together.

A dedicated educator, Margaret Ann spent 30 years as an English teacher at Clinton High School.

"She was my English teacher at what used to be Clinton Junior High School," Clintonian Denise Wrasman said. "She was a wonderful teacher and she was so nice."

Upon her retirement from teaching, Calhoun ventured into a second career, becoming a partner in the Hammers family's retail business.

"The Chamber of Commerce and Clinton community is heartbroken by this tremendous loss," Anderson County Chamber of Commerce President Rick Meredith said Monday. "Margaret was a wonderful educator, business woman and community advocate. Our thoughts and prayers are with her family. ... She will be greatly missed," .

She is survived by: her husband, Don Calhoun; mother, Helen Hammer; son and daughter-in-law, Kelly and Tanya Calhoun; grandsons, Harrison and Matthew Calhoun; sister-in-law, Billie Sue Hammer; brother-in-law, Glen Calhoun and his wife Kay; sister-in-law, Betty Latture and husband Don; nephew, Will Hammer and his wife Whitney; nephew, Clay Hammer and his wife Ashley; and special friends, Alvin and Diane Taylor.