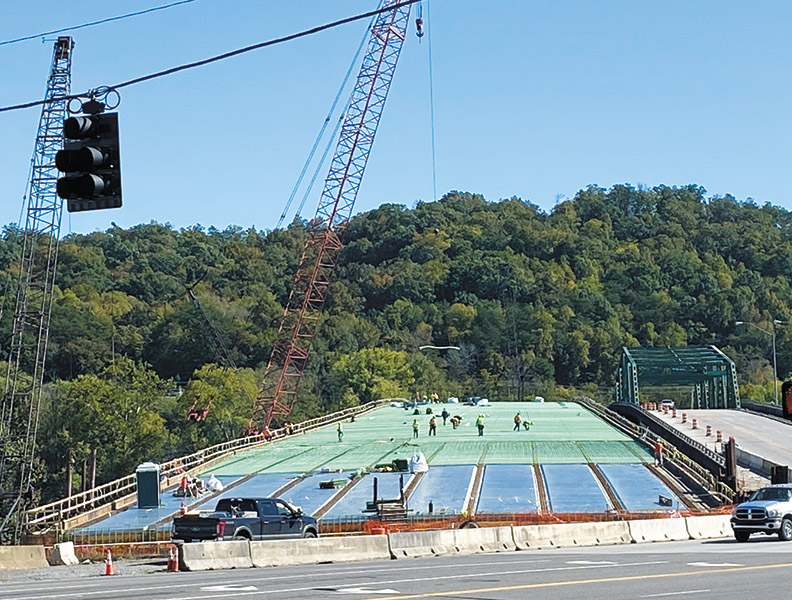 The new bridge over the Clinch River connecting to South Clinton now completely spans the river and is being prepared for the paving that will eventually carry traffic over the span.

It's also getting closer to the time when downtown Clinton's best-known landmark will fall to the wrecking ball, the Lewallen Bridge that the new span is replacing.

Popularly called the Green Bridge here, the current looming steel structure that has been in place since the 1930s will be destroyed soon after the new bridge opens. That's expected to be sometime next summer.

According to an update this past week by Lynn Murphy, Clinton's project coordinator for the bridge project, at "month 26 of the 36-month project" the crews are continuing to prepare the surface of the new bridge for concrete.

Here is his report:

Bridge Deck Drains

Drains spaced at engineered intervals are being installed where the drain gutter meets the concrete curb/sidewalk. This is time consuming work, as the recently installed deck rebar steel must be trimmed away to make room for the drainage structure, which must be set at the proper elevation.

Epoxy Coated Steel Rebar

A sub-contractor crew continues installing the 1.5 million pounds of steel rebar, creating a grid system across the bridge deck. The deck rebar work is currently about 90% complete.

Concrete Bridge Deck

In preparation for the bridge deck concrete pour, crews will be erecting a concrete screed machine, which will extend across the entire width of the bridge deck. This machine must be built to very precise specifications, with several dry runs required to make sure it is running at the correct elevations.

The screed machine rests on rails that will be installed on top of the outermost concrete forms. It uses augers to distribute the concrete mix, and then large floats will level and finish the concrete surface.

The contractor estimates that concrete pouring will begin in the next four to five weeks. Approximately 3,400 cubic yards of concrete will be pumped to create the nine-inch-thick bridge deck.

The finished concrete deck will be the driving surface for bridge traffic."

The bridge replacement project began on Sept. 17, 2018, and is scheduled for completion on Aug. 31, 2021.