Filmmaker chronicles the exploits of his grandfather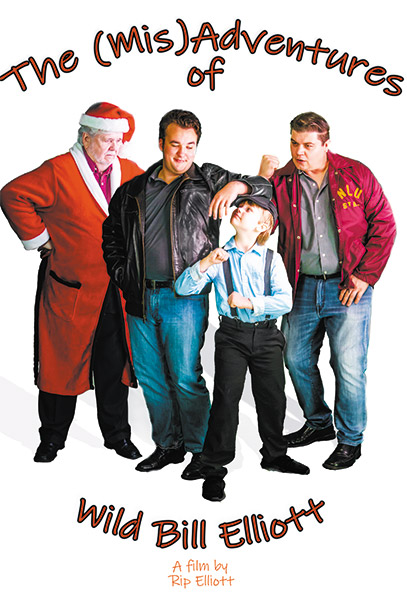 For the second time this year, The Ritz Theater in Clinton will screen an original movie by a local filmmaker, this one this coming Saturday (Dec. 26).

Premiering at The Ritz at 3 p.m. will be "The (Mis)Adventures of Wild Bill Elliott," a 77-minute film about a Harriman man whose grandson, Rip Elliott, wrote and directed the production.

While the "Wild Bill" in the film is not the same Wild Bill Elliott as the legendary cowboy by the same name, Rip Elliott said his grandfather Bill Elliott earned the nickname "Wild Bill" for some of his own exploits during his 78 years of life. He was born in 1930 and died in 2009, after having traveled much of the country as a pipefitter.

The film was shot in various locations in this area, including inside The Ritz and Hoskins Drug Store in Clinton, the Roane County Courthouse in Kingston, and various sites in Oak Ridge, Knoxville, Oliver Springs, Lancing and Coalfield, said Rip Elliott, who described himself as a freelance actor.

"It's my grandfather's life story starting back in the 1930s," he said

"I started this because my dad was telling me I needed to write my grandfather's story. He had kind of a big life.

"To me, he was the closest man to John Wayne that I ever knew," said Rip Elliott, who is 38. "He was a man's man, a ladies' man, a charmer, athlete, fighter, and a family man. He was definitely larger than life.

The movie is essentially a collection of "slices of life" about his grandfather, Elliott said.

"He was a colorful character. He punched out bosses when he thought they were wrong. And once he did not even get fired when he punched out that boss. He had a strong code that he believed in.

"But he came up rough and didn't always have the best judgment," Elliott said. "He started early. When he was 13, he was already out hitchhiking to visit his grandparents' farm in Virginia. He once scrimmaged against the Harlem Globetrotters."

At least 107 people are featured in the film, including Rip Elliott, who plays a small part as himself, he said.

"It's primarily a family friendly biography about a man who lives a bold life as a charmer, schemer, athlete, and fighter who grows to become more of a family man over time," he said.

Admission to the showing will be the standard $5.50 ticket price for all ages at The Ritz.

In February, The Ritz hosted the premiere of another locally produced film, "He's Coming!"

Clinton High School graduate Spencer Simmons, 19, wrote the script, co-directed, acted in, and did much of the cinematography for that film, which he classified as a psychological thriller.

It was shot using local actors, including four different ones to portray Elliott over his life span.