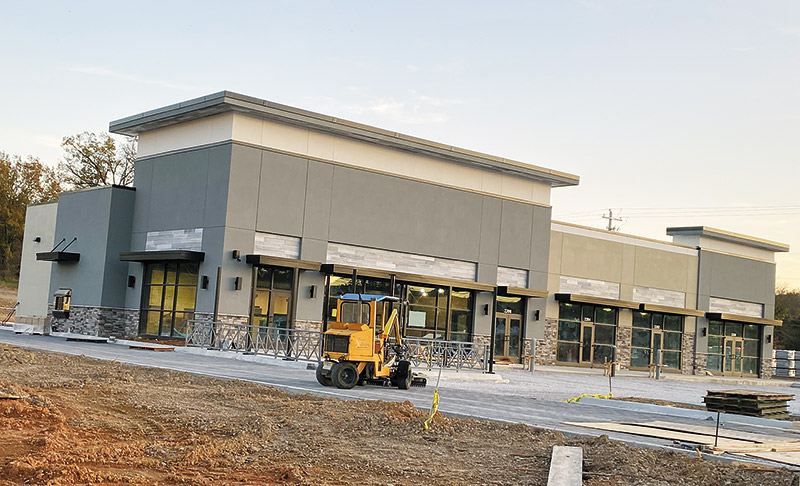 Despite the coronavirus pandemic, which was expected to wreck the local economy this past year, the city of Clinton issued more than $52.46 million worth of building permits in calendar year 2020, a recent record.

"I think it's positive proof our city is growing and going in the right direction with commercial, industrial, residential and recreational projects," Clinton City Manager Roger Houck said Monday after the city's Planning and Zoning Department closed out the year and released the complete list of permits issued.

Clinton Building Inspector John Householder, whom the city hired away from the town of Farragut just 19 months ago, said Monday, "We have tripled our business since I got here."

He previously had worked as a building inspector for Oak Ridge for 10 years before going to Farragut. Houck said he had told Householder that the job probably would be a lot less busy here – which turned out to be just the opposite.

Houck said the city's growth surprised him after hearing dire predictions early in the pandemic in March that city revenues might end up being cut in half because of COVID-19 shutdowns.

"Even with COVID, our budgets and revenues have stayed neutral or positive," Houck said. "And we're seeing growth we didn't think we'd ever see with COVID."

Some of the biggest building permits issued by the city during 2020 included:

• $12 million to 3M Corp., 400 J.D. Yarnell Industrial Parkway, expansion, June 4.

$10.66 million to Tennessee Board of Regents, 220 Frank L. Diggs Drive, 46,635-square-foot higher education building, Aug. 21.

$4.88 million to Fairfield Inn, 130 Tanner Lane, Jan. 21.

$4.5 million to 3M Corp., 400 J.D. Yarnell Industrial Parkway, March 13.

$3.839 million to Aspire Foundation, 125 Yarnell Road, Aspire Park building, Dec. 30.

$1.37 million to Clinton City Schools, Clinton Middle School addition, March 31.

$1.18 million to Glen Alpine Retail Center, 1115 Charles G. Seivers Blvd., Feb. 14.

$750,000 to I-75 Industrial Group, 111 Matthew Warren Drive, expansion, Oct. 8.

$550,000 to Choo Choo Waffles, 2255 N. Charles G. Seivers, new Waffle House, Dec. 8.

$400,000 to Buddy's bar-b-q, 2206 N. Charles G. Seivers, restaurant interior, July 31.

There were building permits issued for 25 new single-family residences during 2020, including several in the new subdivision next to Anderson County High School ranging from about $245,000 to $315,000.