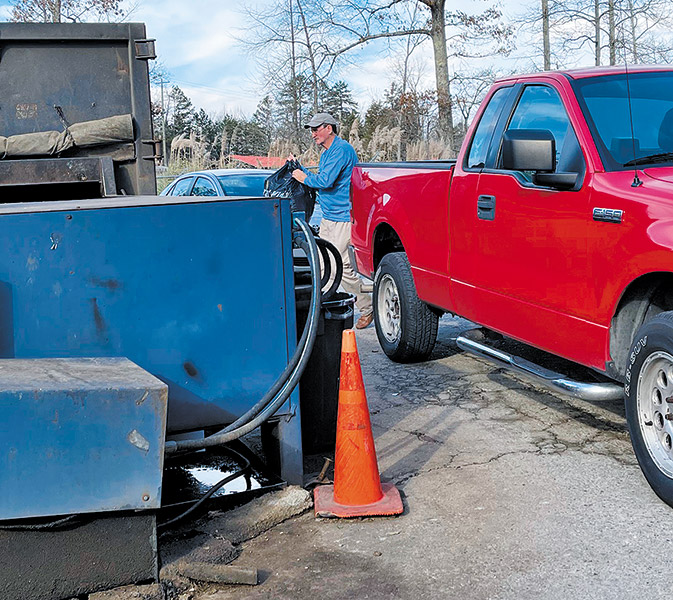 Residents of the Marlow community will have to find other sites to dump their trash beginning Thursday (Jan. 7), as the Marlow Convenience Center will be closed for renovations for as long as three months.

The center, near the Marlow Volunteer Fire Department off Oliver Springs Highway (Tenn. 61) and Ford Road, should reopen by April 11, but it could be sooner if the contractor finishes the work early, said Geoff Trabalka, solid-waste coordinator for Anderson County.

"We're removing the compactor boxes and redoing all the concrete under them," he said Monday. "We will be putting in a septic tank to catch any runoff when the compactors get squeezed. Because the compactors are on a slope, we've had problems with runoff coming off the concrete pad.

"We're basically digging a hole and putting new concrete down."

The work will include installing drains under each of the compactor boxes to channel runoff into the septic tank, instead of allowing it to run out onto the road or off the site, Trabalka said.

DCSI Construction of Knoxville – a concrete contractor – will perform the work, and has up to 90 days to finish the job, he said.

The cost is $269,000, and all but $80,000 will come out of the county's general fund. The $80,000 will be taken from the Solid Waste Reserve Fund, Trabalka said.

Marlow area residents within a five-mile radius of the Oak Ridge Convenience Center will be able to take their refuse to that location, while others in the area may go to the Frost Bottom, Green Valley or Wolf Valley convenience centers, he said.

A flyer the county has been handing out to people at the Marlow Convenience Center directs them to the Frost Bottom Convenience Center, 289 Frost Bottom Road, and the Green Valley center, 1992 Lake City Highway. Both are open 7 a.m.-6 p.m. Monday through Saturday.

Those who will be allowed to use the Oak Ridge Convenience Center must live on one of the roads designated in the county's agreement with the city.

They are:

Arms Circle, Armes Lane, Autumn Drive, Bacon Springs Road, Bush Circle, Bush Road, Cardinal Lane, Carmen Lane, Cedar Road, Center Valley Road, Classic Drive, Clifton Lane, Country Lane, Cumberland View Drive, Donald Lane, Doss Lane, England Drive, Farmers Hollow Road, Farmington Lane, Gator Lane, Gibbs Road, Hackworth Lane, Hayes Lane, Tenn. 61 (addresses from 1 to 1400), Hudson Lane, Ivy Lane, Jessica Lane, Joann Lane, Joe Byrd Lane, King Lane, Lake crest Lane, Lake Hills Drive, Lakeview Lane, Laurel Road (addresses from 1000 to 1508), Manor Road, Marlow Circle, Marlow Road, Martin Road, McKamey Lane, Melissa Lane, Orchard Crest Circle, Orchard Knob Road, Pamela Place, Pine Ridge Road, Powdermill Road, Ridge Lane, Rostron Lane, Russell Lane, Shields Lane, Speas Lane, Sweet Lane, Talley Road, Taylor Lane, Willoughby Lane and Wood Lane.