For 78 years, Helen Llewellyn Hammer has been the face of Hammer's stores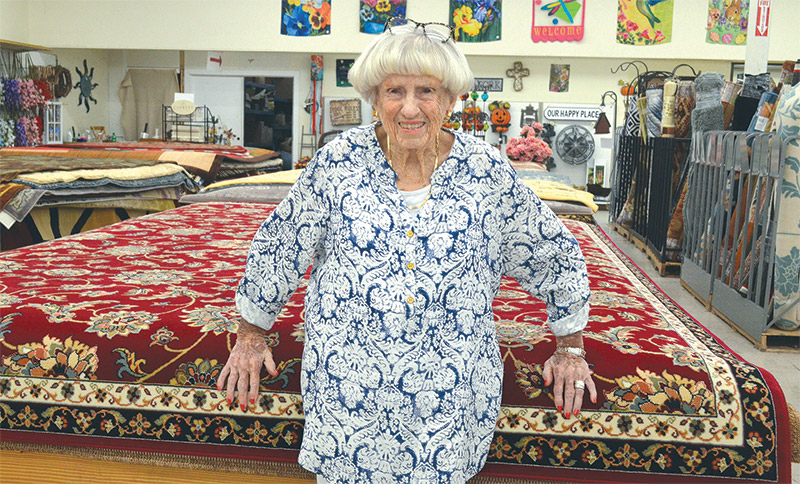 In 1952, Helen Hammer took her first steps in becoming a household name in Clinton and Anderson County.

It was that year that she joined her husband, the late A.B. "Bernard" Hammer Jr., in coming to Clinton to oversee operation of a Hammer's expansion store in the city.

The couple was supposed to stay a week. The rest, they say, is history.

Helen Hammer died Thursday, Jan. 7, at the age of 98.

Since the early days of Hammer's on Market Street, Helen's name was spoken almost in the same tone as one would speak about a mythological figure. Sure, the store bore the family name, but Helen Hammer's stature as an astute business woman skyrocketed.

At a time when most women were homemakers, or teachers perhaps, if they worked at all, Helen Hammer was in a unique and miniscule category, as she worked side by side with her husband in a venture that began 78 years ago.

In an interview in 2018, Helen Hammer shared the secret of her success: "I just grew into the life," she said. "It just happened. I guess that was the way it was meant to be.

"I have never felt like I was working," she added. "I always enjoyed it. It has been interesting, to say the least."

The couple's daughter, Margaret Ann, followed in her mother's footsteps. She retired from teaching and recalled in 2018, "Daddy always respected Mother's business judgment, and turned a lot of things over to her. He made a lot of decisions, but he was happy to let Mom enjoy what she was doing, and to take the lead in many things."

Helen Hammer was down-to-earth. She was no-nonsense. She knew her strengths and her weaknesses.

"Mom and Dad were really good about delegating, and letting people do what they do best, and she is still that way today," said Margaret Ann in 2018.

That includes taking on technology.

"I don't know how to use a computer, and don't run the cash register. It is too complicated, and I am not interested in learning," said Helen, matter-of-factly. "I leave that for others to take care of."

Helen leaves behind: Daughter-in-law, Billie Sue Hammer and son-in-law, Don Calhoun; grandson, Kelly Calhoun and wife Tanya; grandson, Will Hammer and wife Whitney; grandson, Clay Hammer and wife Ashley; great-grandchildren, Harrison and Matthew Calhoun, Morgan and Millie Hammer, Gabriella and Adaiah Hammer; niece, Janet Schofield; nephew, Rick Llewellyn.

The family will hold a private graveside service at Andersonville Cemetery at 3 p.m. Wednesday, Jan. 13, 2021, with Dr. Mike Thompson officiating.