Anderson County High School graduate helped 'little' Coastal Carolina burst into the national CFB conversation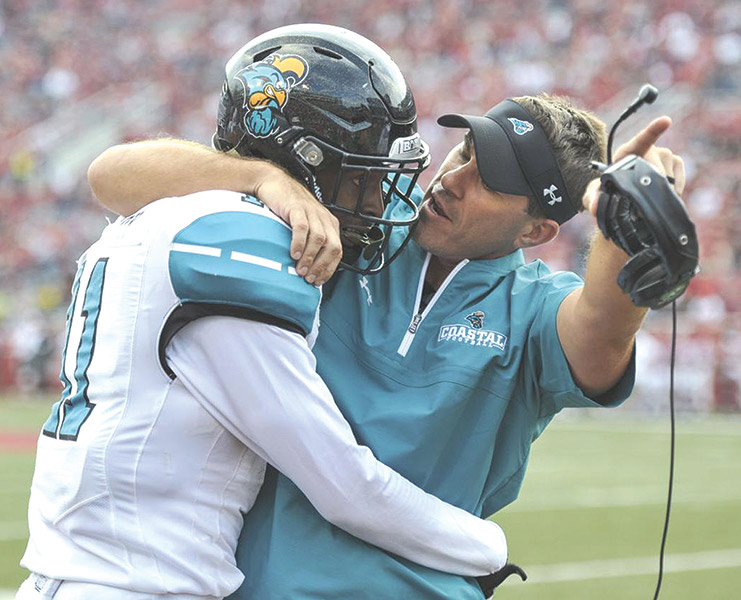 Good things come in small packages.

Or from small packages.

Or small schools.

Something like that.

The Chadwell brothers both played for Anderson County High School.

Many people will still recognize Jon Chadwell on the sidelines at Maverick Stadium.

But his brother, Jamey, assumed the head coaching position for Coastal Carolina University this year, giving the Chanticleers their most successful season ever and allowing them to reach a Top 10 CBS ranking for the first time in the school's history. To put it in perspective, the school reached a rank of ninth in the country after their win over Troy, taking Miami's spot after the Hurricanes tumbled out of the top 10. A rank of ninth put them only one spot behind Florida at the time.

Jamey played for Anderson County, graduating in 1995, and was described by both his brother and Dail Cantrell, one of the longest serving coaches at Anderson County High School, as "One of the best quarterbacks the school has ever had."

"He was an All-State quarterback," said Jon Chadwell.

"He ended up throwing for 2,800 yards his senior year, and he only played at AC that year. The weird thing for us was that both of our parents were teachers at Campbell County. He really took the area by storm a little bit because most teams were not spread offense at the time. Coach Jack Daniels was the offensive coordinator at the time and implemented the spread offense. They were kind of a step ahead of everybody."

Jamey gained a full football scholarship to ETSU, where was quarterback. Going into his sophomore year, he was named starting quarterback before a broken ankle sidelined him. He only ended up playing sparingly at ETSU after the injury.



"It had a big impact on him," said Jon Chadwell. "He had to learn to be a teammate when he wasn't out on the field and he had to become a leader. It shaped him to handle the locker rooms and bring the teams together to create a culture. One thing Coastal has done this year is they play for something bigger than themselves. They play as a team and a family. One of the things they've built that on is loving each other."



Jamey played with Travis Freeman, now one of the principals at Anderson County, and Davey Gillum, the head coach for the Mavericks. Gillum was a sophomore running back at the time, while Freeman was the team's center.



"It meant a lot to him to be a Maverick," said Jon. "It was an exciting time to watch and it started the tradition of AC becoming a great football school with how much excitement there was in the community. They took six big busses down to the quarter final that year. Looking back now: It was just such a fun time."



Jamey Chadwell himself said that his time at Anderson County meant a lot to him, and has helped him professionally.



"It was a great experience playing under Coach Kerr. It's meant a lot for my growth as a coach. I loved playing there and the people of the area, so I take a little piece of it with me everywhere I go."



When asked what changes he made at CCU that he felt made the most difference, Jamey talked about changing the culture and the mindset of the players.



"It's about changing their expectations from hoping to win to expecting to win. It's changing their thought process. Once that happened and they started expecting and believing in good things happening, then it started happening."



Jamey also said his injury has ultimately helped him as a coach, helping him deal with adversity and relate to others when they're dealing with hit.



"I think anytime you go through an injury, it makes you refocus your priorities. When you don't go through adversity, it makes you think you're untouchable. When it hits you, though, you learn to adjust. It helps me relate to others on a similar path and it's helped me in coaching. Things don't always go your way and it's how you respond when they don't that makes you successful."



When asked if there was any advice he'd give to younger football players or students now that might want to end up where he is now, Jamey said they have to enjoy it.



"I think you really have to enjoy what you do. Make every job you do like it's the most important thing in the world, and put everything you can into it. Treat people right. You definitely have to catch some breaks, though. The Lord has opened some doors for me, that's for sure, but you also have to be ready to run through those doors when they're open.



"Dream big, and realize that you don't have to be big to have an impact. You can put roots wherever you are, and if you water those roots, they can grow into something. It doesn't always mean a better job or more money, but you can always have an impact."



Jamey said he'd someday like to move back to Anderson County.



"I'd love to. My wife… not so much. I would like to get back there, but in college coaching, that's hard to do since there's only so many spots. I'd never close the door on moving home, though."



Speaking of home, Jamey made sure to stress just how much the people of Anderson County mean to him, including his brother.



"Without the people there and the lessons I learned, I wouldn't be where I am. My dad, Jack Daniels, the offensive coordinator, I think all the coaches had an impact. My brother is a lot better coach than me for sure. He's smart, he knows how to relate to young people. He gives; he cares. He coaches for the right reasons.