After two losses to Powell, CHS bounces back against Campbell County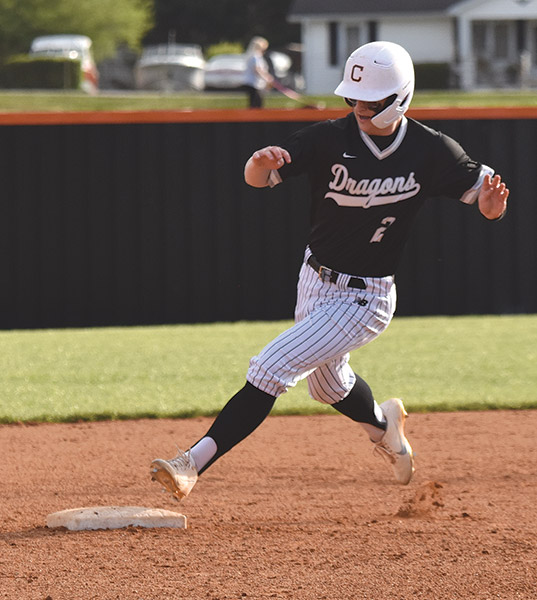 Clinton has had a mixed week in baseball, with two losses, but the Dragons did snag a 10-0 win against Campbell County to bolster their record.

The Dragons traveled to Powell on Tuesday, April 6, for a rematch against the Panthers after they beat the Dragons 15-1 the day before. Clinton ultimately lost the second matchup 6-2 after giving up five runs in the second inning and struggling to make a rebound.

Garrett Lee had one of the team's only RBI that game, with Ethan Tinker and Daniel Burke both scoring hits. Mac Lowe pitched for the game, notching 16 first-pitch strikes and finishing with a WHIP (walks plus hits per inning pitched) of 1.17.

On Friday, the Dragons hosted Cookeville, and led until the fifth inning, when the Dragons gave up four runs.

Blake Lowe pitched for the game, followed by Ethan Tinker. Tinker finished with two strikeouts, while Lowe finished with 11 first pitch strikes. Meanwhile, at the plate, Daniel Burke led the team on his with three and two RBI.

Finally, on Monday, Clinton hosted Campbell County in a game where the Dragons took a shut-out 10-0 win against the Cougars.

Mac Lowe pitched for the Dragons that game, finishing with seven strikeouts and 19 first pitch strikes, as well as a WHIP of 1.00. Lowe also finished with two RBI and 3 QABs, though he wasn't the leader at the plate, as that title fell to Connor Moody, who finished with three hits, three RBI, and three QAB. Alex Saltkill finished right behind Moody with two hits and two RBI.