Cozy Hardscape Supply opens on Clinton Hwy.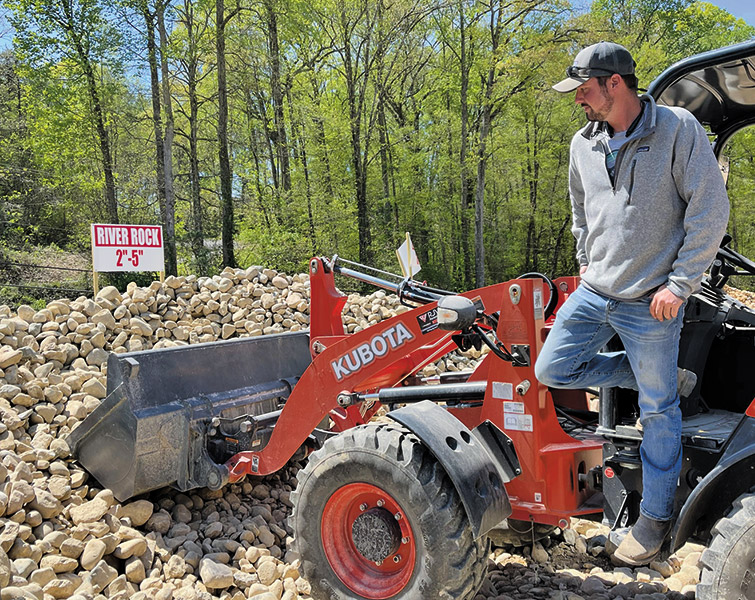 For those ready to decorate or upgrade their lawns or landscaping with rock, mulch or sand, Cozy Hardscape Supply has opened for business at 3232 Clinton Highway.

The new business, which is operated by the same owners as Cozy Excavating & Contracting at 768 Old Emory Road, Clinton, offers decorative river rock and stone in a variety of sizes – from boulders down to pea-size gravel — along with river sand, dyed mulch in three colors (black, brown and red), pine mulch, topsoil, fill dirt, and recycled concrete and asphalt.

"We started it because we have another company here, and we have the connections to bring these supplies in," said Allen Glessner, owner of the company. "It's also about providing jobs. We will be employing two or three people, at least.

"My oldest son, Cole, is the general manager. He's been working with me since he was 5 years old.

"We buy the rock bulk right out of the ground," he said. "We have another facility at Forks of the River where we process that rock ourselves. We truck it out of Newport to Forks of the River, where we process it. We're getting products from several other states, as well.

"We're also recycling concrete and asphalt," he said. "We make a couple of different gravel products out of it, as well as a manufactured sand. We've also started to supply product to some other companies in the area."

Cozy Hardscape Supply has the materials stored on its lot at the Clinton Highway location, where this week the company also plans to begin work on a 40-by-50-foot building that will house other landscaping supplies and tools for sale.

Those will include pipe, felt, shovels and more, said Mason Allen, the site manager and sales lead for Cozy Hardscape.

"We opened a few days in February, then opened permanently March 1," Allen said. "We haul some of the product in ourselves, and some comes in on tractor-trailer rigs."

The company has two sizes of dump trucks to fetch and deliver the rock, mulch, dirt and sand, but also has front-end loaders to scoop the materials into customers' truck beds, he said.

Most prices are by the front-end-loader scoop full, ranging from $18 for a scoop of crushed recycled asphalt to $28-$45 a scoop for mulch, $27 for fill dirt, $45 for shredded topsoil, and $35 to as much as $130 a scoop for the various sizes and types of stone.

River boulders are individually priced, ranging from $30 to $100 each.

"Most of what we get comes in from outside the area," Allen said.

According to the website (cozyhardscapesupply.com), "We are a new hardscape supply yard offering a range of products to help both landscapers and individuals with the expertise and products needed to get the job done.

"We are a sister company to Cozy Excavation. Cozy got its start over 30 years ago mowing lawns and landscaping and has progressed into a commercial and residential excavation company."

The site also notes that the owners "are opening this supply yard to provide our current customers as well as new customers the ability to pick up products in any quantity they need."

Cozy Hardscape Supply is open Monday through Friday from 8 a.m. to 5 p.m., Allen said.