Clinton, Norris farmers' markets preparing to open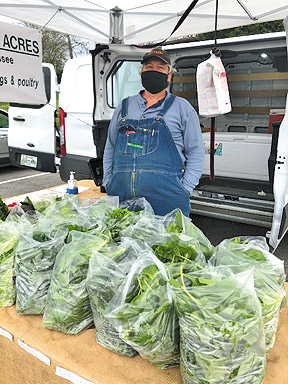 Farmers' markets will be cranking up for the season next week in Clinton and Norris, just as the 2021 growing season begins to take root.

Clinton will be getting is first farmers' market this spring and summer, operating from 3-6 p.m. on Fridays in the downtown area.

Norris will resume its weekly farmers' market, which has been in existence for more than a decade. But this year it's moving to Wednesdays instead of Mondays, its promoters say. It also will operate from 3-6 p.m., with May 5 being the opening day. It's still being held in front of Norris Middle School.

Clinton's market is new this year.

Called the Clinton FARM Market, it will begin Friday, May 7, with a 2:30 p.m. ribbon- cutting event by the Anderson County Chamber of Commerce. It's operated by the East Tennessee Farm Association for Retail Marketing, also known as FARM.

"We have about 18 vendors signed up for the opening," said Kathy Chippendale, secretary of the FARM group. "Spring greens are all out. We may see some strawberries, but that's weather-dependent.

"For now, it's more spring greens and cool-season vegetables, such as peas, broccoli, lettuce and kale. We're hoping for a good turnout, and I think everybody's excited about it."

The Hawg Dawgs food truck will be on site for the opening event.

The Clinton market will be set up in the city parking lot on Commerce Street, and will run through Oct. 29, according to Janet Hawkins, executive vice president of the Anderson County Chamber of Commerce.

"It will be in the flatter part of the parking area from the restrooms down," Hawkins said earlier.

The Clinton market is associated with a similar operation in Oak Ridge, which kicked off April 10, in Jackson Square. It runs from 8 a.m. until noon on Saturdays.

Both of these markets and two more in Knoxville are operated by the FARM group. They offer fresh products "sold by the person who raised it, grew it, made it or baked it," said Kathy Mihalczo, president of FARM. She owns Erin's Meadow Herb Farm in the Marlow community, and has been associated with the FARM group for more than 30 years, she said.

"Our mission is to support local agriculture," Mihalczo said. "FARM is dedicated to helping local farmers and producers to direct-market their products the public."

She said the group is one of the "oldest agriculture marketing co-ops in the state of Tennessee," having been around more than 42 years.

"Clinton will be our fourth market," she said. "We decided to partner with the city of Clinton and the Anderson County Chamber once we found out they desired to start a farmers market," Mihalczo said. "Clinton is an underserved area for fresh local produce. And Clinton is growing. It has a great little downtown, and it has a great history."

In Norris, the farmers' market is led by Mindy Wells, who also operates a blueberry and egg farm on Reservoir Road in Norris. But this year it's also getting some oversight from the Norris Community Development Board, said Councilman Will Grinder, who also is a member of the board.

"The Community Development Board is going to host it and help maintain and support it," Grinder said of this year's farmers' market. "Mindy Wells has been the front person for the last couple of years. I reached out to her to see if she needed any help.

"The board voted to host and support it as a city function, and we nominated her as the chairperson. We're also changing the day of the week to Wednesday, primarily due to school traffic."

Norris City Manager Scott Hackler said the Wednesday schedule for the market will be better because Norris Middle School students get out at 1 p.m. Wednesdays, which will mean less school traffic in the area when the farmers market opens at 3 p.m.

"I think over time we hope to have a little bit more structure for the market, with more local farmers and crafts people," Grinder said. "We will try to do more marketing to help support the farmers."

Wells said she hopes to have 10 to 15 vendors for opening day, and she said all of them are from the local area.

"Our market has been much more focused on small farmers and backyard farmers," she said. "People who grow blueberries in their back yards. People who have gardens, but just have too much produce, or have a couple of beehives, so they have some honey to sell. These are people who aren't necessarily farmers, but they do have things to offer."

She said the Wednesday schedule is tentative for now.

"We will continue with it on Wednesdays unless it doesn't turn out to be a good day for vendors," Wells said. "We're still open to new vendors, and anyone interested can contact us through our Facebook page or call me directly.

"We're not part of any of the farmers' market associations," she said.

"This will be the first year the city will give us some guidance. Several people have stepped forth to say they want to help, and we're trying to figure out how to go about getting things people would like to see – both produce and crafters.

"We 'll have some pretty cool vendors who are kids who want to be involved – selling baked goods or lemonade.

"But we want to hear from anyone who has anything to offer," Wells said.