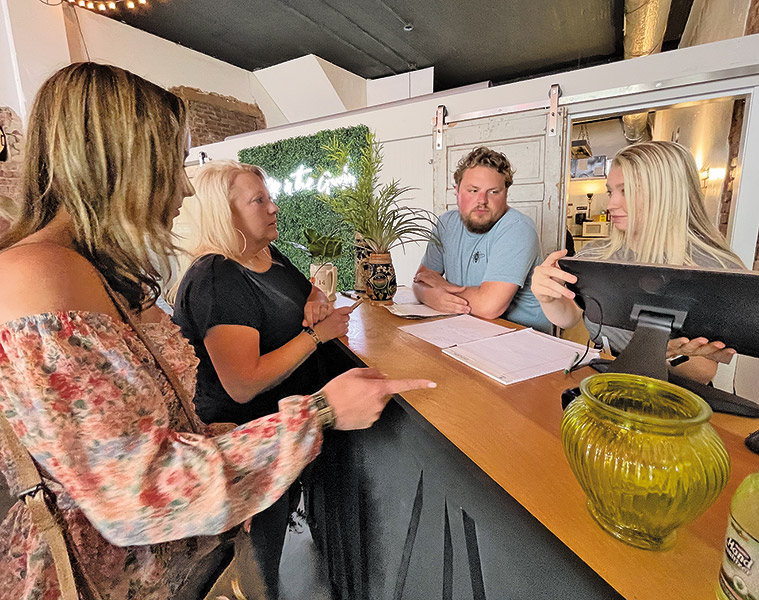 Even before the 3:30 p.m. ribbon cutting to mark the official opening, The Garden on Market – a new pop-up downtown Clinton restaurant and bar – began drawing customers last Friday afternoon.

"It was a great success," said Taylor Martin, owner and creator of the business, which for now operates only on Friday evenings in conjunction with the nearby Clinton FARM Market.

The Garden's hours for now are 4 to 10 p.m., and it will continue to be open during those hours and on Fridays only for the foreseeable future, Martin said.

It's located inside the Spindle Tree photo studio and event space at 303 Market St., in the former location of a short-lived Cajun restaurant that went out of business about three years ago.

Besides indoor seating for about 40, there is also space for sitting or standing in the Alley Way just to the side of the building, where there was live music performed most of the evening, Martin said.

"We had people here until closing time," Martin said. "We were slammed until about 9:30, and we had a steady crowd all through the evening."

The business offered small plates and a variety of beer, including some from local breweries.

"People really loved the Alley Way after it got darker outside," he said. "At one point we had a standing-room-only crowd out there."

For the entire evening, "We know we served at least 300 people," Martin said.

"It was a variety of ages, young people, families, older people. It was a big mix. We had a lot of families. We're a kid-friendly, family-friendly place.

"We had plenty of food, and we went through almost eight kegs of beer," he said.

"The Orange Hat and Clinch River were the most popular brews; both are locally owned."

Taylor said the only glitch was the long lines of people waiting to be served. Food and drink were sold and served at the counter, and it was slow going at times.

"We definitely are going to try to expedite the lines the next time," Martin said. "Nobody complained, but at one point the line was out the door and down the sidewalk almost to Hoskins in the Flat. We are working on ways to fix that."

He said he's also "looking at adding things to the menu."

There's also a possibility that days and hours could be expanded a bit as summer comes, he said.

"We're very happy with the location," Martin said. "And we're ready for Round Two this Friday."

For now, The Garden's menu will feature "local small plates" from restaurants and caterers in Clinton and Anderson County, Martin said. The menu is going to rotate through the next six months.