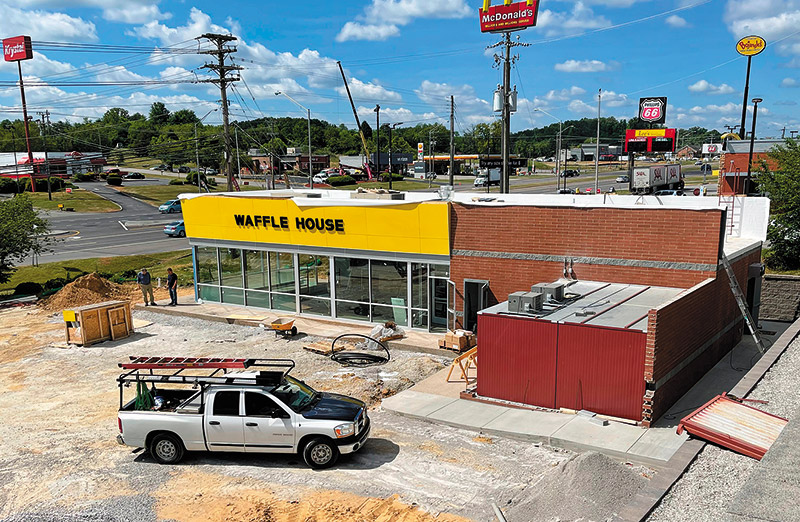 The new Clinton Waffle House restaurant, which will replace the original one that closed and was torn down in January, could be up and running in July, a company official said Friday.

The new building, in the same location as the old one at 2255 N. Charles G. Seivers Blvd., is mostly finished, and the bright yellow Waffle House sign has been installed across the top front of the structure.

"We're still not sure when it will open," said Curtis Mount, senior vice president of Rocky Top Waffles LLC., the franchisee of the Clinton store. "We don't have any of the equipment installed yet, and we have had some trouble getting parts.

"But it could be sometime in July, depending on how everything goes."

Workers took only a couple of days to tear down the original building, which had been in that location about 30 years. Mount said at the time the rebuild could take "several months."

The city of Clinton issued a building permit to the restaurant's owners last Dec. 8, showing a cost of $550,000 for the construction of a 2,132 square-foot "new commercial structure." Contractor for the work was listed as Market Place Holdings.

The project has been nearly a year-and-a-half in the making, so far. Rocky Top Waffles originally obtained a demolition permit from the city for the old building in January 2020, intending to close and rebuild last year.

But the shutdown and demolition were delayed by the COVID-19 pandemic hit, and the project had been on hold for a year when the demolition began this January.

Mount said in January 2020 that the entire project could take four to eight months to complete, and that there would be no Waffle House in Clinton until the new facility was completed and opened.

"It will be a whole new building," Mount said, adding that it would be "just a little bit larger than the present building," which has been open in that spot for more than 30 years, and will have "about eight more seats, if that."

As to why it's being done, Mount said: "Every 30 years we tear one down and put a new one in."

Employees were offered temporary jobs in other Waffle House locations during the rebuild, Mount said.

Meanwhile, fans of the 24-hour restaurant chain must drive to Caryville, Powell or Oak Ridge to find the nearest Waffle Houses.

The first Waffle House was opened by Joe Rogers and Tom Forkner on Labor Day, 1955, in the Atlanta suburb of Avondale Estates. The parent company, headquartered in Norcross, Ga., has more than 1,500 Waffle House locations, both company-owned and franchises.