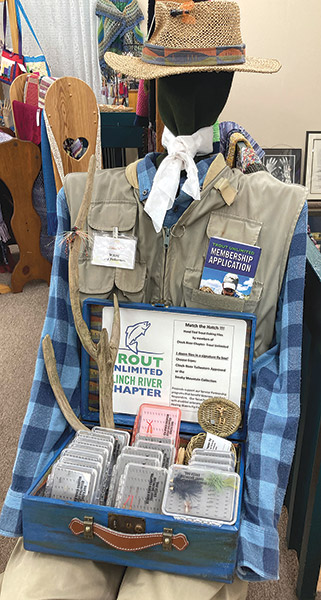 The Appalachian Arts and Crafts Center recently partnered with the Clinch River Chapter of Trout Unlimited to sell flies to benefit Project Healing Waters, an organization that helps disabled veterans.

Mary Lee Keeler set up the display inside the Appalachian Arts and Crafts Center, while Terry Douglas, one-time president of the Clinch River chapter of Trout Unlimited, helped mobilize the organization to create the flies.

"Mary Lee Keeler's husband is a trout fisherman," Douglas said. "She had the idea to sell flies and contacted us. So far, it's turned out to be a really good program. There's always new fisherman looking to know where they can get flies if they haven't, and we use flies that have consistently caught fish for us and that you usually wouldn't find at a fly shop. We thought it would be a nice thing for there to be a place where people could get those without having to drive to Knoxville or Townsend."

The proceeds from the partnership will go towards Project Healing Waters, a national organization that aids disabled veterans.

"We've been involved with [the organization] for about seven years now," Douglas said. "We do projects with the veterans to teach them how to tie flies, we build rods with them, we take them fishing. It gives them things to do, and they're getting more self-dependent instead of depending on us. They've learned a lot, and sometimes they've even started taking over the classes in a way.

"We're always there to help, but it's definitely made a difference. It's one of our main focuses."

Douglas said that after he was contacted by Keeler, asked chapter's members for flies.

"I sent out an email asking everyone if they wanted to donate," he said.

"We started out with probably 22 boxes of a dozen flies each, so we've had quite a few. It's mostly been our members so far, but if anyone wants to donate them, we'll be more than happy to take them."

Douglas noted that it's one of the first efforts of its kind for the chapter.

"We do a fly tying class every year in January that we charge for or take donations," he said.

"That money is usually earmarked for kids and participation for kids.

"We haven't really done anything like this before," Douglas said. "We sell t-shirts and caps and stuff at our meetings, but this is our first time doing something like this. We hope it's really successful."

Anyone interested in purchasing the flies or donating should visit the Appalachian Arts and Crafts Center across from the Museum of Appalachia, or contact Terry Douglas with the Clinch River Trout Unlimited Chapter.