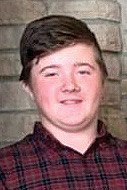 Bristol Brown has been named the 2021 June Dairy Month chairman for Anderson County.

Brown was honored May 21 at the Tennessee June Dairy Month Kickoff Event at Battle Mountain Farm in College Grove.

The event included recognition from Celeste Blackburn, president of the American Dairy Association of Tennessee. The official kickoff celebration recognized Tennessee 4-H members' efforts to promote June as National Dairy Month in Tennessee.

Co-sponsored by The Dairy Alliance, 4-H and the Tennessee Farm Bureau, National Dairy Month activities are designed to communicate the value of milk and other dairy products to Tennessee consumers. Chairpersons play a vital role in spreading dairy's message in their communities.

"I wanted to become June Dairy Month chairman to be able to promote dairy in my county," Brown said. "The dairy industry is very important to us all. I want to be able to give the public information that is accurate and true."

Bristol, a ninth-grader, is the son of Jason and Breeanna Stanford. Brown is a part of the drama team at His Hands Reaching Worship Center. Bristol is an active member of his 4-H chapter, participating in shooting sports and Honor Club, attending the Academic Conference and focusing on livestock for his project area.

He has won awards for livestock shows and judging, as well as recognition as 4-H Member of the Year and an All Star member.

"We wish Bristol much success in his role of communicating the nutritional benefits of milk and dairy products to the people in Anderson County," said American Dairy Association of Tennessee President Celeste Blackburn.

Originally deemed "National Milk Month" by American grocers in 1937, National Dairy Month began to promote dairy consumption during peak milk production in the summer. Today, it continues celebrating with the Southeast's communities and companies through festivals, contests and even a special night dedicated to dairy farmers at the ballpark.

In 2020, there were an estimated 30,000 Tennessee dairy cows living on 180 dairy farms producing 63 million gallons of milk. This year's theme, "Dairy Potter," encourages families to make milk their first beverage choice due to its unique package of vitamins, minerals and nutrients that are an essential part of a healthy diet. With local media and farm bureaus, dairy farmers will be working alongside The Dairy Alliance to engage consumers through social media, radio contests, t-shirt giveaways, events and more.

For more information on how you can celebrate National Dairy Month, see thedairyalliance.com/dairy-farming/june-dairy-month/.