The solution?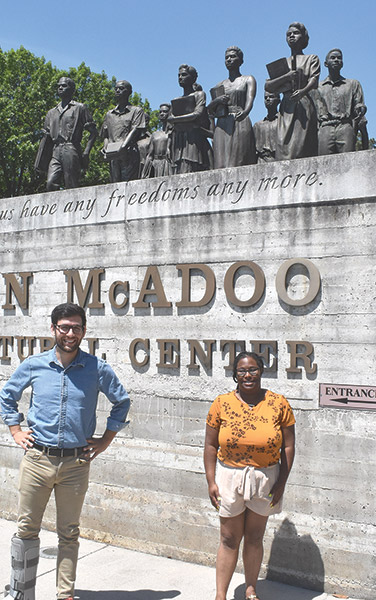 Janna Seats is like any other kid who grew up in Clinton, Tennessee.

She does, however, have the distinction of having a certain knowledge that most folks not living on "The Hill," don't have.

Seats is a Clinton native. She attended Clinton Elementary School, Clinton Middle School. She knows the community. She knows Clinton.

So, in preparing for the inaugural Juneteenth celebration, Janna Seats was a key.

"She's a rock star,' Green McAdoo Museum and Cultural Center Director Adam Velk said. "We couldn't have pulled this off without her."

Seats is working as an intern at Green McAdoo this summer, but her contributions to the center and to the upcoming Juneteenth celebration has made an impact on Velk, and on the community many simply call, "The Hill.

The Hill is the black community in Clinton. It has a rhythm, a feel, a conscience, a pulse of its own. It's "The Hill."

Velk wants to bring visitors to the Green McAdoo Museum and Culteral Center. But he also wants to serve the community.

"A lot of museum directors acts like, 'You should be gratefull we're here, You should thanks us.'

"I don't see it that way. I'm more like, 'What can we do for you?'" he said.

Velk said he approached Clinton's City Board and City Manager Roger Houck about getting people to the center and was given a green light.

"They want us to succeed," he said.

And then came the idea of celebrating June Nineteenth.

"I'm a white guy, okay?" he said. "Who am I to tell a Black community how to celebrate what is a traditional Black holiday?'

Enter the Rock Star.

"When I was growing up we called it 'Community Fun Day," Seats said. "We celebrated our community and being a part of that community."

It's been called a number of things. It's been celebrated a number of ways.

But now that Janna Seats is involved, it's going to a whole new level.

The first thing — the thing that is drawing attention region-wide and state-wide, is the "hair show."

This could be a game changer.

Because it's not just about hair, a Black woman's hair, and the cultural signifigance. It's about history, too, It's about culture and subtletitles and differences and belonging and even power.

"The Juneteenth "Hair Show," Velk says is going to be bigger than big."

Beyond the hair show there will be a real community gathering.

As in "Real."

"I talked to the people in the community and do you know what they wanted?" Seats asked. "Card tables. Seriously, they want to play Spades and Gin Rummy and they want to sit with their friends."

It's coming. No matter what you think of Juneteenth, this cleberation, the first at Green McAdoo Museum and Cultural center is about community and about coming together.

Juneteenth celebrations begin at 9:30 a.m at the Green McAdoo Musuem and Cultural Center with a prayer breakfast.