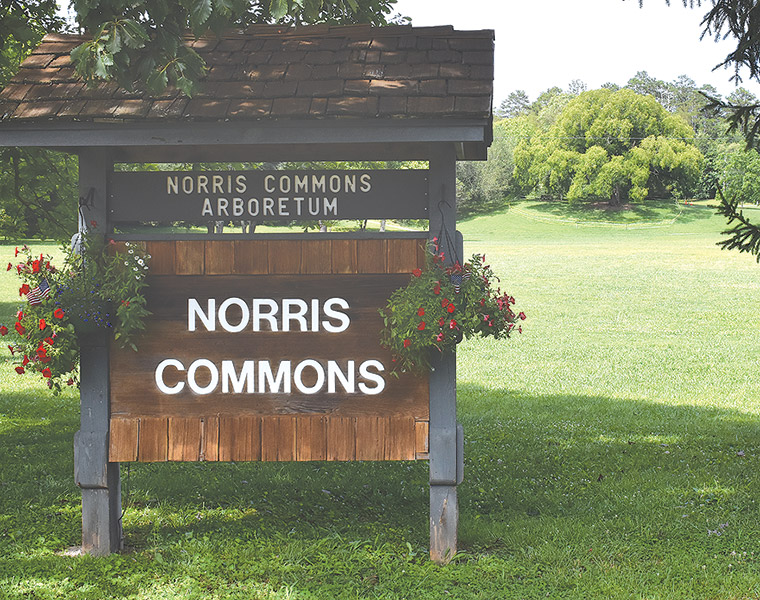 The Norris Commons will host the old-fashioned Civilian Conservation Corps "Base Ball" game July 18, with Norris Dam facing Frozen Head State Park.

The CCC league involves four state parks: Norris Dam, Frozen Head, Pickett and Cumberland Mountain, all coming together to compete in the spirit of the old CCC games that took place when many of these parks were being built.

Ranger Joe Gamble of Norris Dam State Park helped organize the league with Nate Dodson, manager of Alvin C. York State Park.

"It was a collective effort," said Gamble. "I was working at Alvin C. York State Park and park manager Nate Dodson and I talked about it. He's been the driving force behind it. As a park manager, he has a better way of reaching out to others than I do. He's done a fantastic job of reaching out to other parks and also has all the vintage uniforms and everything else. He's fantastic.

"This is the first year we're doing it as an actual league," Gamble said. "We had hopes of doing it last year, but couldn't because of COVID, so we only did the one game."

Gamble said the age and the difference of the game versus now is one of the things that attracted him to the sport, and one of the things that he thinks attracts everyone to base ball, even if they might not realize it.

"I like old fashioned stuff," he said. "I like the old wool flannel stuff, the uniforms, the ball, etc. I like the feeling of nostalgia, and base ball is conducive to that. Part of the reason I think we all like base ball is that it's a product of an earlier time.

"It's a pre-modern game in that it's not a game that functions off a timer. You function off rules and goals that must be achieved to progress. Time almost stands still during a ball game. It's best viewed when it's this simple thing, and there's something to be said about a bunch of local guys just playing to have fun and enjoying the sport. That makes it so much better to me."

Gamble said the ultimate hope is that the games and the league will inspire people to look more into the history of the parks and the CCC that built so many of them.

"We had grand intentions, and we're trying to live up to it. We're doing this program to draw people in through baseball but mostly to tell the story of the CCC. During the 1930's, when the CCC was working here, they were run by the Army and the Army had their own way of doing things, which was: when you're not working, they wanted you to stay busy. One way to do that was promoting sports.

"Last year when we did the 4th of July game – a guy reached out to us. He said that this father had served in the CCC and that he would like to turn out and see us if we did it again. His name was Omer Hicks. We reached out to him again and saw if he could come to the game, but he passed last September at the age of 97. He was from Fentress County and mostly served at Copper Hill, earning the Bronze Star as a radio operator at Omaha Beach. We named the league the Omer Hicks memorial league in his honor."

Gamble said that it's important to him, and to all the parks, that the public understand just how important the CCC was, not just to the building of the parks, but to the development of larger societal ideas that we may take for granted today.

"What I'm hoping is that people gain a better interest in the CCC. We've already seen this in some places where people come out and they get interested and then find out they had an ancestor that was in it. We're trying to encourage that interest in what the CCC did and their legacy. The base ball is good, and it's fun, but it's good to see the story of the CCC being told.

"There's an argument to be made that the CCC is what formed the basis for the modern American environmental movement. Back then, there was so many environmental problems and people weren't really concerned about that when they had to worry about jobs and where their next meal was coming from. Then all these people joined the CC and started doing these projects in nature, and they got invested in it. They had 19 and 20 year-olds that did all this, then went away and fought in the war, came back and got married and had families, and when they took them on vacation, they would take their families to their parks that they helped build and show them why it was important not to throw their trash down and things like that."

Interest in the CCC is starting to spike, according to Gamble, the same way that interest in World War 1 began to spike, as the program and it's products move beyond the realm of living memory into pure history.

"There were a fair number of semi-famous people that served in the CCC. There was a boy from Pennsylvania that joined for work and would have played baseball, then went into the Navy. That was actually Stan the Man, who was one of the most famous players for the Cardinals.

"There has been a big uptick in CCC interpretation in the last year. It's kind of one of those things where we're still in that odd time of where it's a mix of history and how we came to be where we are. It's like how WW1 veterans in the 70's where people were wondering whether it was too recent to be considered actual history. People are looking at the CCC like that now, where people are starting to realize that plenty of those people are passing away or already gone. I think next year there will definitely be some interest if we keep it up There were 76,000 enrollees that worked in TN. The very first nine parks in the state systems were CCC built that were later inducted into the system. You've got parks like Booker T Washington, which was one of the few parks that was built by an all-black CCC company with the idea that it was an all-black state park. There's a lot of history to it."

Gamble plans to keep it up, too, and even hopes to continue to grow the league with more participating parks.

"Only four parks could do it this year. It's hard to commit to sending away teams especially during the summer when we're most busy. I've heard interest from some parks, but I can't blame them for not wanting to fully commit. If you send folks away a couple times a month to play base ball, then it puts a strain on what your park is able to do."

The game will take place on the Norris Commons at 2 p.m. July 18. For the hour before the game, while the teams are warming up, Ranger Joe Gamble and the team captain for Frozen Head State Park will be giving a brief history of their respective parks and both parks involvement with the CCC and the sport itself.