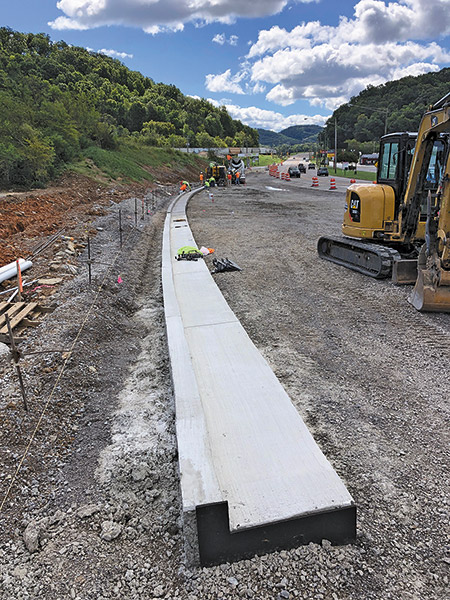 Paving of the connectors from the new Lewallen Bridge to Clinch Avenue and Charles G. Seivers Boulevard is scheduled to begin Thursday, with the opening of part of the bridge – to northbound traffic – expected a few days later, city and state officials say.

"There was undercut of material needed on the south side of the bridge that was not anticipated," which caused the latest delay, Mark Nagi, spokesman for the Tennessee Department of Transportation, said late last week.

"The contractor has continued to work towards the opening of the bridge and is anticipating paving [this] week with favorable weather," he said. "Once tie-ins are made for the first traffic switch, the contractor will transition the SR-9 [Clinch Avenue] northbound lanes of travel onto the new bridge.

"Then the contractor will work to remove and regrade the remainder of the new alignment, and transition the southbound lanes onto the new bridge," Nagi said.

Last Thursday, Lynn Murphy, the city of Clinton's liaison with TDOT on the bridge project, said he was told the paving would begin a week later, on Thursday, Sept. 30.

Crews were installing concrete curbs and gutters on the connectors late last week.

Nagi had told The Courier News about a month ago that northbound traffic could be moved from the present bridge onto the new span as early as Sept. 12 "if all goes well," but that did not happen.

But Murphy said he got some new information from the Blalock Construction Co. superintendent on the project early last week.

"Legitimately, utilities (AT&T, Verizon, and the streetlight electrical contractor) have delayed the roadbuilder's work on the bridge ends," Murphy said. "They hit rock while trenching on the south end.

"Curb and gutter [work] for the south end takes one day," Murphy said. "Sidewalk after that (2-3 days), then asphalt begins (two days). Repeat this scenario for the north end, once everyone is out of the way.

"Then northbound traffic gets moved to the new bridge (two lanes). Then, after about two days and nights of asphalt milling and paving, southbound traffic moves over to the new bridge. Demolition of the old bridge soon begins after that."

In a report to the city on Aug. 24, Murphy, said:

"The three-year contract between TDOT and Blalock for both the construction of a new bridge and the demolition of the old bridge (for $27,735,614.56) expires on August 31, 2021. Obviously, the remaining work will take several months to complete."

Murphy said the bridge replacement project began Sept. 17, 2018, so it has now been underway more than three years.

Demolition of the old (Green Bridge) will begin shortly after all traffic is moved to the new bridge, Murphy said.

The new bridge will carry the same official name as the one it is replacing, Murphy said: The Hon. William Everett Lewallen Memorial Bridge, or Lewallen Bridge for short.