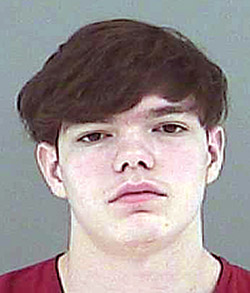 A petition has been filed against Shawn T. Willis for first-degree murder stemming from an incident that occurred when Willis was a juvenile and the case was originally filed in the Anderson County Juvenile Court.

The case has since been transferred to the Criminal Court.

As of today, Willis is still incarcerated in the Anderson County Detention facility with a $1 million bond.

Willis is accused of killing his mother.

The petition says: "The juvenile (Willis) did intentionally and with premeditation, as defined in T.C.A. section 39-13-202(D), kill another person, namely Sandy K. Willis, the juvenile's mother, to wit: The Juvenile did shoot Sandy K. Willis on the left side of her head, subsequently causing her immediate death."

The petition says Sandy K. Willis was unresponsive and lying in bed.

"Upon initial investigation at the scene, it was learned that the victim, Sandy K. Willis was the victim of a fatal gunshot wound through the course of conducting this investigation and through independent interviews, a suspect was identified. The suspect being Shawn T. Willis, the victim's son. Shawn T. Willis, voluntarily consented to be interviewed with the approval and consent of his father."

Willis confessed, the petition states, on May 5, 2020, to "taking his mother's pistol from off of her nightstand as she was asleep. Shawn took the pistol downstairs, as to conceal the sound of loading it, then Shawn returned back upstairs to his mother's room. Shawn walked around the victim's bed, to the opposite side of the room, positioned himself alongside her bed, and shot her at close range, on the left side of her head, thus causing her death. This incident did occur at 157 Andy's Ridge Road, Anderson County."

When announcing the petition was filed Anderson County's Sheriff's Office added, "This will be the only document we will release on this case."

A date for the petition to be heard has not been released.