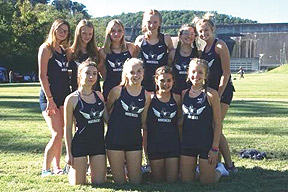 Anderson County High School's Kaitlyn Fisher won her second consecutive race on Thursday, claiming first place in the Norris Dam Invitational with a time of 18:50.00.

Fisher won the Johnson University Invitational last week.

Her win also helped the Lady Mavs take first place in the team competition, besting nine other teams, including rival Clinton, which finished fifth overall.

"The Norris Dam race is special for our team because it's our home course and it's where we train," Anderson County Coach Derek Wallace said. "The girls finished first and all of the girls got their best times this season."

"The Norris Dam race was amazing for all of our runners," said Clinton Coach Tim Kumes. "Each Dragon harrier running in the event was able to get a PR. We always love running here locally. Coach Wallace does a great job putting that race on.

"We were able to get out there earlier in the week and practice with the Mavs," Kumes said. "I was very impressed with all the Dragons. I was very impressed with Alexis England and Ally Holyfield."

Anderson County junior Megan Haire finished sixth with a time of 21:24.00, while teammate senior Macy Caldwell finished 10th with a time of 21:45.00.

Lady Mavs freshman Marley Caldwell finished 11th with a time of 21:51.00 to help the dominant performance by Anderson County.

Other local finishers and times include:

• Haley Braden, sophomore, AC 22:54.00

• Ailison Holifield, sophomore, CHS 24:13.00

• Alexis England, senior, CHS 24:20.00

• Jade Guadarrama, senior, CHS 24:32.00

• Emily Boring, sophomore, AC 25:20.00

• Marissa Winter, junior, CHS 25:46.00

• Adeline Shelton, senior, CHS 25:47.00

• Juliet Avila, junior, CHS 26:03.00

• Abigail Bible, senior, CHS 26:27.00

• Savannah Worthington, sophomore, AC 27:17.00

• Abagail Sanders, senior, CHS 27:23.00

• Morgan Lindsay, freshman, AC 27:24.00

• Summer Wilson, sophomore, CHS 27:29.00

• Riley Buchanon, freshman, AC 27:38.00

• Sifi Gatho, junior, CHS 28:51.00

• Madison Redmond, senior, CHS 29:00.00

• Brianna Merryfield, sophomore AC 29:26.00

• Madison Rayfield, senior, AC 30:12.00

• Kaylee Guinn, freshman, CHS 30:23.00

• Natalie Mclemore, junior, CHS 35:09.00

On the boys' side, Alcoa's Abdul Jaber won first place with a time of 16:10.00 and the Tornadoes also took first place in the team competition. Anderson County finished fourth overall and Clinton finished seventh out of 16 teams.

"I saw great improvement. Connor Chandler keeps getting stronger as the season continues. Ryan Basford, Dustin Welsh, and Vance Laster all hit the 19s for the first time," Wallace said.

"Ethan Ortiz and Seth Shrout led the boys to a solid effort. The weather was absolutely perfect - and as the weather starts to cool, the season becomes a little bit more enjoyable for the kids to run these races ," Kumes said.

Local finishers included:

• Conner Chandler, junior, AC 17:28.00

• Ryan Basford, sophomore AC 19:24.00

• Ethan Ortiz, junior, CHS 19:45.00

• Vance Laster, freshman, AC 19:54.00

• Dustin Welsh, senior, AC 19:59.00

• Seth Shrout, senior, CHS 20:08.00

• Zac Harold, senior, AC 20:46.00

• Josh Moody, sophomore, AC 20:55.00

• William Swaggerty, senior, CHS 21:06.00

• Ben Clotfelter, freshman, AC 21:13.00

• Ethan Bolton, sophomore, AC 21:24.00

• Noah Ortiz, sophomore, CHS 22:08.00

• Michael Dueble, senior, CHS 24:05.00

• Jackson Zaruba, freshman, AC 24:54.00

• Michael Curtin, sophomore, AC 25:24.00

Wallace said Anderson County will run at the state cross country course in Hendersonville on Saturday, Oct. 9, in the event they can qualify this season.

The regional meet will be held at Victor Ashe Park in Knoxville on Tuesday, Oct. 26.