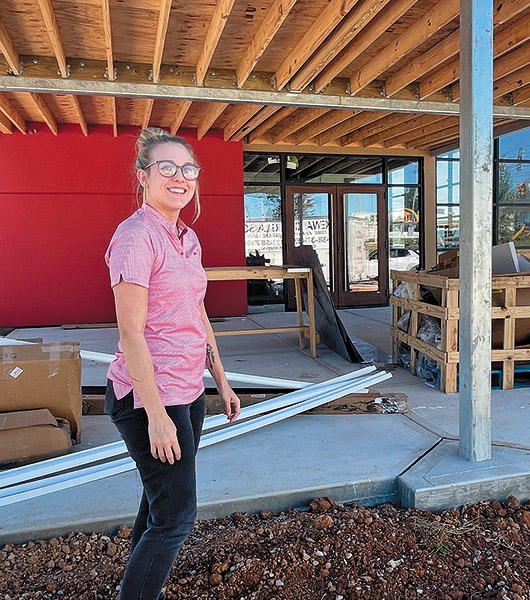 Construction has nearly finished, and the new Clinton Wendy's restaurant on the west side of town should open on Nov. 8, company officials say.

General Manager Adrienne Hopeck said Monday that the early November date is what the company is now shooting for, and work was in full swing at the site on Monday.

Installation of glass doors and windows was wrapping up, and the interior was taking shape Monday.

Last Friday, Roger Rice, regional vice president for JAE Restaurant Group, the store's owner, said the store is still working on getting some furnishings and interior work done, which could push the opening date back a bit.

He blamed manufacturing and transportation holdups attributed to the COVID-19 pandemic, which has been playing havoc with construction schedules for the past 18 months.

"They're doing a nice job, and we have a great crew out there," Rice said of the construction work. "We're still waiting on some equipment to come in. We had hoped to finish it by late October."

The new restaurant has nearly completed hiring its staff, but some positions remain open, officials said.

JAE Restaurant Group obtained a building permit from the city of Clinton in June for the $750,000 structure on South Charles G. Seivers Boulevard.

Based in Pompano Beach, Florida, JAE owns 36 Wendy's locations in the Knoxville area and six in Chattanooga.

The new Wendy's – Clinton's second – is being built on the former site of the Clinton Christian Church at 400 S. Charles G. Seivers Blvd.

The company bought the church building and its 1.3-acre lot in October 2020 for $690,000, and obtained a permit from the city of Clinton in early June to demolish the church building, which had been vacant for several years.

The permit stated a cost of $35,000 for the demolition work.

A crew took the building down in less than a day. The site is catercorner across Seivers Boulevard from the McDonald's restaurant, near the Lewallen Bridge on the west side of town, and next door to the Harold Trapp Insurance Agency.

On the building permit, JAE listed the owner as WEN Acquisitions Knoxville LLC, with the same address as the JAE Restaurant Group's headquarters, 1100 Park Central Blvd. South, Suite 3300, Pompano Beach, Florida.

Contractor for the project was listed as Quality Builders Inc., which has its main offices in Raleigh, North Carolina, and a second office in Knoxville, according to company records.

JAE already owns the Wendy's restaurant on North Seivers Boulevard, just off Interstate 75, Exit 122, which underwent a $311,500 remodeling earlier this year.