With Norris renovation, staff at complex will double in 2022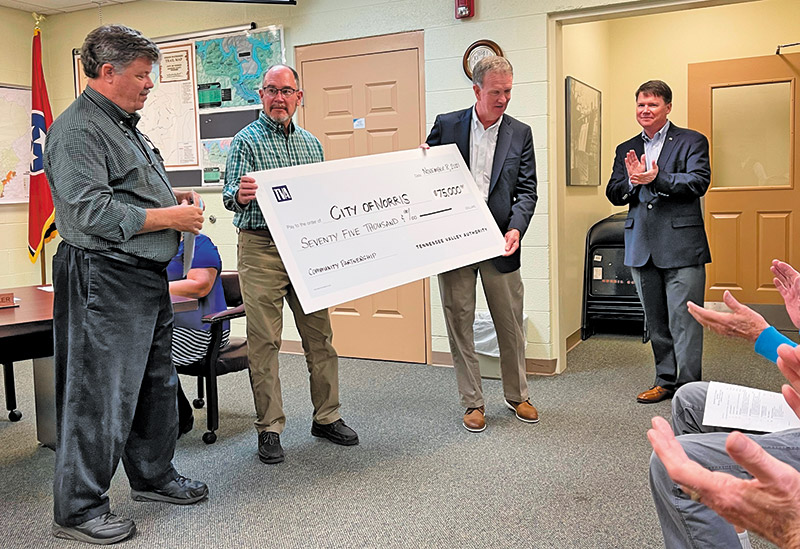 Renovation and expansion of the historic Norris TVA Engineering Laboratory is nearly complete, and the Tennessee Valley Authority says it will more than double the staff at the facility beginning early next year.

"The project is about 95% complete, TVA spokesman Scott Fiedler said Monday. "We're down to finishing ceilings and flooring in one of the buildings, and going through a punch list to make sure everything is correct and up to spec.

"We currently have about 40 employees on site, but that will expand to 80 to 100 when the project is complete this winter, in the January time frame."

The renovation and expansion at the Norris facility has been underway for more than two years, and is part of the giant federal utility's "regional consolidation in Knoxville," Fiedler said.

"This will help reduce our footprint in the Knoxville area by about 60% of building space, and we're moving people around," he said. "Norris will more than double its workforce."

Positions at the Norris facility include those for engineers, TVA police, the natural-resources/fisheries biologists team, and more, Fiedler said.

"This makes us more efficient and helps reduces costs, and that money is reinvested in the system to help keep [electric power] rates low," he said.

TVA Senior Vice President Bob Deacy last week presented a $75,000 check to Norris city officials to help cover wear and tear on city streets as the agency moved dirt out of the area during the reconstruction and renovation project.

"We want to thank everyone for their patience as we have been renovating," Fiedler said. "We just want to be an asset to the community."

In conjunction with the lab's expansion, workers built sheds to house up to 50 TVA boats, and to create workshops for repair and maintenance of the boats. The agency uses the boats for work throughout its system of rivers and lakes in East Tennessee, said Dennis Yankee, senior manager of engineering and field services at the Norris lab.

To accommodate construction of the boat sheds and workshops, TVA had to remove part of a hillside. It used dump trucks to haul away up to 20,000 cubic yards of dirt to three area landfills, Yankee said.

"There's a lot of dirt being moved," Yankee said early last year as the project was in full swing. "It's about 1,500 truckloads. … The hill behind the lab, where we're building the boat sheds, had to be lowered by about 10 feet."

The trucks hauling out the dirt took it to the Waste Management Chestnut Ridge Landfill, Meridian Waste Riverside C&D Landfill and the Meridian Waste Poplar View Landfill, he said.

TVA is relocating some of its engineers and other workers from downtown Knoxville to the Norris lab as part of the agency's strategic real estate reorganization.

"We will eventually have somewhere less than 100 folks," he said, with some TVA business functions moving there from other field locations in East Tennessee.

"I've got about 20 people in downtown Knoxville at the Summer Place building who will be coming out and joining our group already there [in Norris]," Yankee said. "It will make us a stronger organization. We will have fisheries biologists and environmental staff from Walnut Orchard and from downtown Knoxville."

All of them will share equipment and boats at the Norris site and "not have redundant equipment," he said. "There will be cost savings."

As for renovation of the laboratory buildings, which date to the construction of the dam in the mid-1930s, "Those buildings have changed hands from TVA to the Bureau of Mines and back to TVA," Yankee said. "They are dated.

"As part of TVA's strategic real estate effort, we are looking at these buildings, and the effort now is to pick out core facilities, and improve the quality of the ones we keep," he said.

Cindy Light, TVA's Norris project manager for Strategic Real Estate, said in early 2020 that the renovations began with the largest structure, Building B, and include buildings A and C.

"Building C was shut down for years," she said. "We decided to renovate it for the people from Summer Place who are moving in here. We cleaned it out and removed all of the asbestos."

To help prevent damage from the heavy trucks to Norris utility lines under the roads, TVA installed thick, heavy steel plates over them in two places.

"We worked with the city to minimize impact [from the trucks] and to avoid water-line breaks," Yankee said.

Norris would be compensated an unspecified amount for wear and tear on city streets from the trucks hauling the dirt, TVA ombudsman Wilson Taylor told the Norris City Council during its February 2020 meeting.

It was from that pledge that the city received the $75,000 check last week.

Mayor Chris Mitchell said the money will be used to match grants.