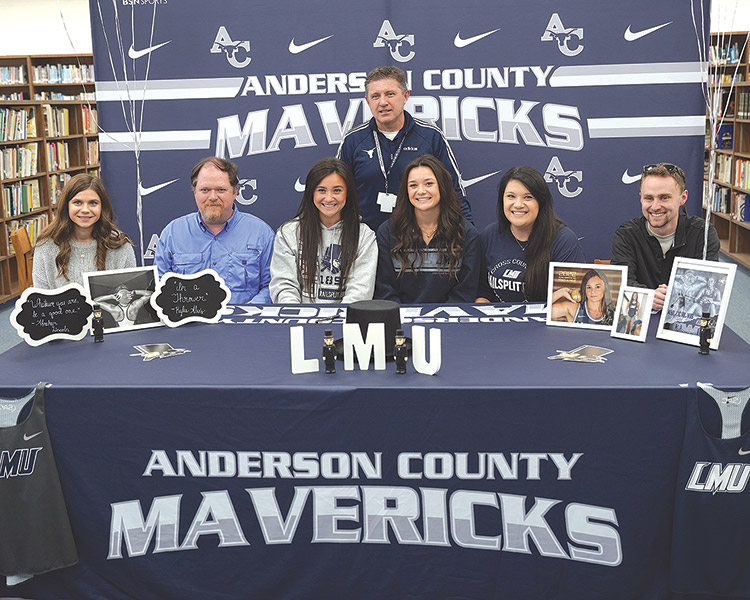 You like it when good things happen to good people.

You like it even more when it comes as a surprise.

Kylee Alvis signed her letter of intent last Friday with Lincoln Memorial University for the school's track field team.

Track and field?

Anyone who has followed Anderson County High School Lady Mavs basketball for the last three years might have guessed Alvis was going to go somewhere … For basketball.

But after only one year on the Anderson County High School track and field team she earned a scholarship as a thrower.

"I was surprised," Alvis said of the offer. "I thought I could play basketball somewhere, but for throwing?"

"Basketball is a team sport," she said. "And track is so … focused on the individual. It's 'team,' but your mindest is different. And you compete against yourself as much as you compete against others."

Her mother echoed that feeling of surprise. "I was stunned. Just stunned," her mother, Alicia, said. "I thought she might go somewhere to play basketball. But this just shows that God has a plan and we don't really know what that plan is."

Kylee's entry into the world of track and field may never have happened. And even after she joined the team, throwing discus and shot may not have happened.

"I wanted to go out as a freshman, but didn't," Alvis said. "I thought about it my sophomore year, but something got it the way.

"But last year (junior year) I joined," she said. "At first I tried high jump. I thought that was where I could make an impact."

But then Alvis tried throwing discus.

"On her first throw everyone is kinda standing around after she threw and it was like eyes are popping out and everybody is asking, 'Where did that come from?'" Ricky Williams said.

Williams and his brother, Randy, worked with the ACHS track and field team. What they saw in Alvis was raw athletic ability. "We knew she was an athlete, we just had to find an event for her."

Williams said what made Alvis stand out in discus was a natural ability to throw. The more she threw, the better she became. The better she became, the more she threw.

"But you have to watch that. You can't throw too much. It's not basketball where you can stand at the free throw line and shoot basket after basket," Williams said.

"It's like a baseball pitcher. You only have so many throws at a time before you put stress on your joints and maybe cause damage."

But Alvis threw. She worked at her technique. And she opened a lot of eyes.

"She worked on her spin before her release," Williams said. "Not many girls do that and she impressed a lot of people with that.

"She's such a great kid," Williams said. "And she has a great family. And yeah, I thought she'd sign somewhere to play basketball, but she is so athletic, works so hard, and has so much natural ability, I'm not surprise she's throwing."

LMU wasn't the only school looking at Alvis for her throwing ability — and yes, there were schools looking to sign her to play basketball — but Alvis said she fell in love with LMU.

"The campus, the dorms, the people there are great," she said "And everyone I've met at LMU has a great sense of humor. That's important to me."

Alvis said she plans on majoring in special education.

Alvis will still shred defenses on the basketball court this season. She'll continue to work hard at that game.

But come spring she'll makes eyes pop once again as a thrower.

And she'll work hard at that, too.